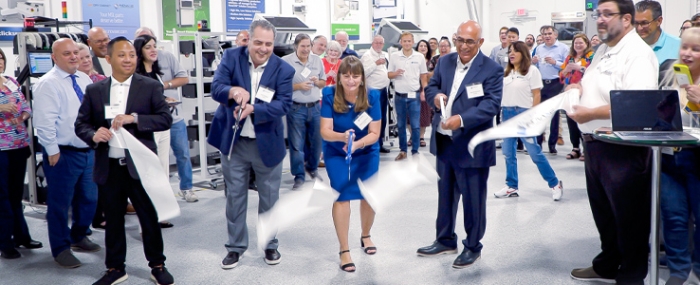 Electronics Production |
Inovaxe opens new demo and training centre
Inovaxe, a provider of innovative material handling and inventory control systems, has officially opened its new Demo and Training Center on Tuesday, May 23, 2023 in Boca Raton, Florida.
"This facility represents our commitment to pushing the boundaries of material handling technology and providing our customers with innovative solutions that optimise their SMT manufacturing operations," says Ben Khoshnood, Inovaxe President, in a press release.
Located just down the road from Inovaxe's existing manufacturing headquarters, the new facility spans over 5,000 square feet and serves as a dedicated demonstration and training centre. Equipped with a fully operational SMT line, the demo centre allows the company to showcase its Smart Storage Systems in a real production environment.
This setup allows customers to see how Inovaxe's solutions streamline material handling processes, reducing handling time, eliminating errors and manual data entry, preventing line-down occurrences, and eliminating the black hole of Work in Progress (WIP).
"We are committed to empowering our customers with the knowledge and tools they need to optimise their material handling operations," added Khoshnood. "The new Demo and Training Center allows us to deliver comprehensive training programs, equipping our customers with the expertise to maximise the potential of our solutions and enhance their operational efficiency."