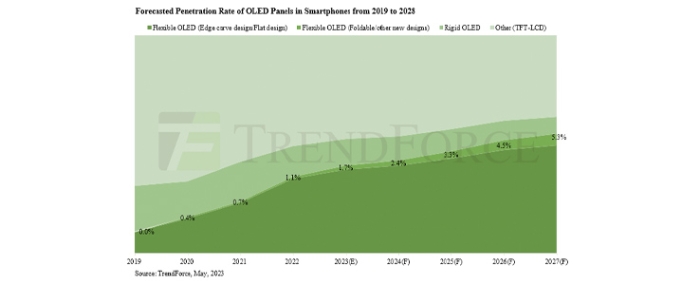 Analysis |
Foldable smartphone shipments to soar by over 50% YoY
TrendForce estimates that shipments of foldable smartphones will reach 19.8 million units in 2023, marking an impressive YoY growth rate of 55% compared to 12.8 million units last year.
According to TrendForce's "AMOLED Technology and Shipment Tracker" the continuing global economic downturn continues to exert pressure on the smartphone market, with this year's projected market size falling short of 1.2 billion units. Concurrently, advancements in both software and hardware of new devices have plateaued, shifting the market focus toward foldable smartphones. Analysts at TrendForce, therefore, estimate that shipments of foldable smartphones will soar 55% Yoy, reaching 19.8 million units in 2023 compared to 12.8 million units last year.
Relatively high prices have been a significant barrier to the wider adoption of foldable smartphones. However, devices with exorbitant price tags akin to the Huawei X2 (USD 2,000+) launched in 2021 are no longer commonplace as brands and module markers continuously develop new technologies to optimise costs. For instance, OLED organic materials currently account for approximately 23% of the cost of foldable smartphone OLED panels. As more suppliers enter this competitive landscape, prices are forecasted to fall. Similarly, the price of hinges—another critical component—used to range between CNY 800–1200, but is now adjusting downwards, alleviating the overall cost pressure of foldable smartphones and boosting consumer acceptance.
Samsung, the earliest entrant into the foldable smartphone market, maintains its lead over other brands in research and production technologies. It's rumoured that its next-generation Fold/Flip 5 will be unveiled in late July and hit the market in August. The new design is expected to feature a significantly larger cover display, setting it apart from the previous generation. Samsung currently commands around 70% of the overall foldable smartphone market, shipping approximately 13 million units.
Chinese brands like Huawei, OPPO, Vivo, Xiaomi, and Honor have all joined the race for foldable smartphones. Huawei's Pocket S, released in 2022, has seen a warm reception in the consumer market, thanks to its appealing design and competitive pricing, despite being equipped with a 4G processor. Last year, Huawei's market share stood at around 10% and is expected to approach 20% this year. Other Chinese brands hold around 3–5% market share in the foldable smartphone sector. If they can extend their foldable devices into global channels, their sales volumes are expected to rise even further.
At present, the market is focused on the recently released Google Pixel Fold, which features a 7.6-inch 2208x1840 resolution OLED panel and a 5.8-inch 2092x1080 resolution OLED panel for the cover display. Transsion, a company with a longstanding presence in the African market, introduced its first foldable smartphone, the Phantom V Fold, earlier this year. With an increasing number of brands expected to venture into foldable smartphone production, TrendForce estimates the market penetration of foldable phones to be around 1.7% in 2023. With continuous improvements in cost and design, this figure is expected to surpass 5% by 2027.
---
For more information visit TrendFroce.