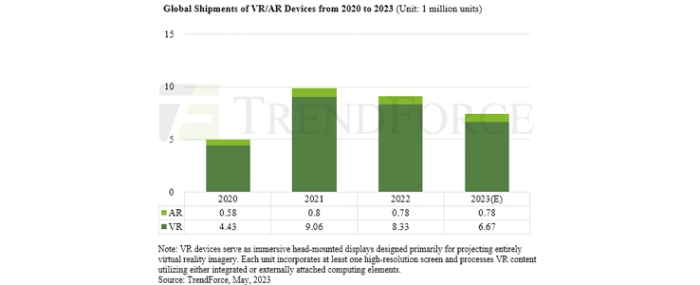 Analysis |
VR/AR shipments expected to drop to 7.45 million in 2023
TrendForce forecasts a global downturn in AR and VR device shipments for 2023, predicting a shipment total of roughly 7.45 million units—an 18.2% YoY decrease.
VR devices are expected to shoulder the majority of this decline, with projected shipments hovering around 6.67 million units. This dip is primarily attributed to weaker-than-expected sales of newly released high-end devices. Consequently, manufacturers are likely to pivot their sales strategies, shifting their focus to more cost-effective offerings. Conversely, shipments of AR devices are expected to remain stable, with projected shipments exceeding 780,000 units. While Apple's latest offerings could stimulate some demand, the high price tags attached to these units continue to pose a significant barrier to broader market growth.
Two key factors emerge when examining the impending decline in shipments in the VR sector. Firstly, brands may have been overly optimistic regarding the sales of their top-tier products. Despite these premium devices offering enhanced features courtesy of advanced hardware and software, consumers are showing reluctance to shoulder the associated higher costs. Instead, they seem to be gravitating towards more budget-friendly models this year. Secondly, the shortage of appealing, new, cost-effective models in the market is exacerbating the downturn. Meta Quest 2 continues to maintain its status as this year's market-leading VR product as the release of Meta Quest 3 has been pushed back to 2024.
In contrast, AR devices experienced a significant surge in shipments during 2020 and 2021, fueled by pandemic-driven demand for remote communication solutions. However, as the ramifications of the pandemic start to wane, this growth trajectory is showing signs of slowing down. Although Apple is projected to launch a new product in 2023, this release is primarily targeted at developers, signifying an accompanying escalation in specifications, features, and, most importantly, cost. This factor, coupled with anticipated production hurdles, is likely to restrict sales predominantly to pre-orders for this year. Shipment estimates are projected to fall short of 100,000 units, with total production potentially capped at 300,000 units.
TrendForce posits that the trajectory of the VR and AR device market may encounter certain limitations between 2023 and 2025. While affordable VR devices could pique the interest of mainstream consumers, the prospect of minimal profitability might dissuade manufacturers from substantial investment in the VR market in the immediate future. A shift towards AR devices and their corresponding applications seems more probable. Nevertheless, the expansion of the AR device market hinges on a broader acceptance of consumer applications. Therefore, TrendForce anticipates that a significant rise in the VR and AR market, potentially nearing a 40% annual increase in shipments, might not be realised until 2025.
---
For more information visit TrendForce.