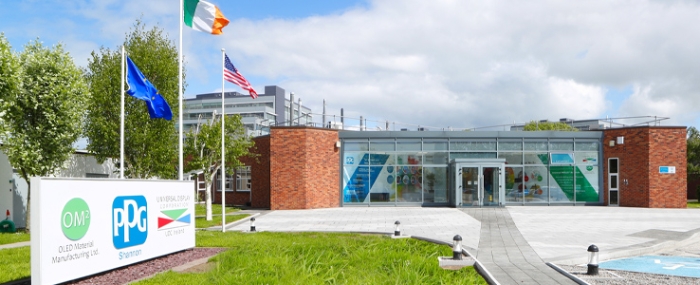 Electronics Production |
UDC and PPG open new Irish OLED manufacturing site
Universal Display Corporation and PPG have officially opened a new OLED manufacturing facility in Shannon, Ireland. The site is expected to double the production capacity and diversify UDC's manufacturing footprint for energy-efficient phosphorescent OLED emissive materials.
The initial EUR 10 million investment launches a multiyear, multiphase expansion plan for the production of energy-efficient phosphorescent OLED materials
PPG produces UDC's highly-efficient, high-performing UniversalPHOLED materials. There are currently 50 people working at the new production site, and the headcount is expected to increase up to 100 as further investments roll out. The roles at the Shannon facility include engineering and operational disciplines, supply chain roles, synthetic chemists, and analytical technicians.
PPG has been UDC's exclusive manufacturer of phosphorescent OLED emitter materials since 2000, and broadening manufacturing operations in Ireland builds on that longstanding partnership. The new facility in Shannon expands upon PPG's established OLED production facilities located in Monroeville, Pennsylvania, and Barberton, Ohio.
"This new site represents a major infrastructure investment for the future of the OLED industry. The region's great workforce talent, driven by strong education systems here in Ireland, and its commitment to innovation helped our decision process in selecting Shannon as the facility's location," says Steven V. Abramson, president and CEO of Universal Display Corporation in a press release.