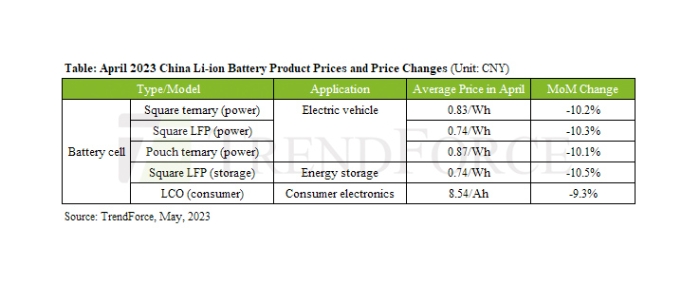 Analysis |
Lithium prices rebound, china's battery industry chain to recover in May
The average selling price (ASP) of battery-grade lithium carbonate and lithium hydroxide in China saw an MoM decline in the month of April, falling to CNY 198,000/ton (-39%) and CNY 266,000/ton (-33%), respectively, according to TrendForce research.
Although the MoM decline in prices has expanded, lithium salt prices began to show signs of stabilization and rebounded in late April. Additionally, prices of lithium hexafluorophosphate (LiPF6) – a key raw material used in electrolytes – have recently started to rise again, prices of anode materials, iron phosphate, and lithium battery copper foil have almost bottomed out, and China's EV battery industry chain is gradually stabilising.
Lithium salt prices experienced a five-month decline before stabilising and rebounding in April. This allowed the prices of various li-ion battery products to return to levels observed prior to the surge in demand at the end of 2021. Specifically, in April, the ASP of EV square ternary cells, LFP cells, and pouch ternary power cells were CNY 0.83/Wh, CNY 0.74/Wh, and CNY 0.87/Wh, respectively. Taking a look at battery cells used in energy storage equipment, lithium iron phosphate (LFP) storage cells declined 10.5% MoM in April to around CNY 0.74/Wh. However, the price of LFP materials has recently begun to rise, and businesses are receiving more orders. As for battery cells used in consumer electronics, the ASP of cobalt lithium (LCO) cells in April was CNY 8.54/Ah (USD 1.24) – a 9% MoM decline – and the market has been showing signs of recovery.
TrendForce observes that Chinese EV battery manufacturers are nearing the end of their inventory reduction efforts, and the relationship between supply and demand has gradually normalised after more than a quarter period of market adjustments. Furthermore, current battery material prices are stabilising and market demand is steadily increasing, indicating that China's battery industry chain is gradually recovering. Total recovery is expected in June as downstream demand continues to pick up.
---
For more information visit TrendForce.