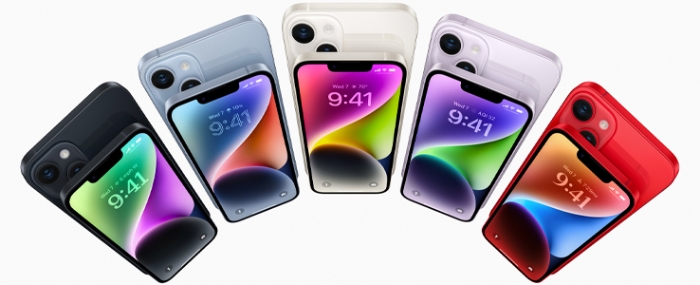 Analysis |
Global smartphone shipments remain in a slump
Smartphone shipments totaled 268.5 million units in 1Q23, according to the latest Omdia smartphone preliminary shipment report. Compared to the previous year, this marks a decrease of 12.7%, and compared to the previous quarter, a 11.1% fall.
Two of the largest OEMs, Samsung and Xiaomi reported 18.3% and 22.0% falls in shipments year-on-year, while Apple remains flat with its 1Q22 shipment levels in 1Q23.
Despite a significant year-on-year drop, Samsung had the highest shipments in 1Q23, reporting 60 million shipments. It had a small 3.2% increase in shipments compared to the previous quarter, however, it is not enough of a rise as it has had in previous years with its annual Galaxy S-series. Its advantage over Apple has dwindled from 18 million more than Apple in 2022 to only 3 million more in 1Q23 – resulting in a drop in market share from 24% to 22%.
Following the usual fourth-quarter bump in 2022, Apple's shipments have returned to normal levels, remaining flat with the 57 million shipments recorded in 1Q22. This represents a 23.5% decrease from the previous quarter but a 0.1% increase over the same time in 2022. Despite this, Apple's market share has climbed year on year as all other OEMs' sales have decreased, rising from 18% in 1Q22 to 21% in 1Q23. Apple appears to be weathering the economic crisis better than other OEMs and is recovering from the bump in its eight-quarter/two-year stretch of year-on-year growth that ended in 4Q22.
"Due to production disruptions at Foxconn's Zhengzhou plant in December of last year, Apple was unable to supply the necessary quantities for the most important sales season, Christmas, and the end of the year. As a result, some of Apple's production was carried over to the first quarter of this year. In order to clear inventory in major markets such as China, early this year, the company conducted a promotion to lower the selling price of the new iPhone. This resulted in year-on-year growth rate of shipments in 1Q to perform relatively better compared to other OEMs. Apple's price promotion of the new iPhone in the first quarter is very unusual. This seems to be a strategy to lower inventory to prepare for the sluggish smartphone market expected in the first half of this year." says Jusy Hong, Senior Research Manager at Omdia in a press release.
Xiaomi still occupies the third spot, but impacted by tougher market conditions than other Chinese OEMs. It is still facing a big inventory problem in Latin America and the European market, with weak demand in India being another reason causing shipments in 1Q23 to fall. It recorded 31 million shipments in 1Q23, a 22% drop year-on-year and an 8.1% drop quarter-on-quarter.
Rank
Company
1Q23
4Q22
1Q22
QoQ
YoY
Shipment
Market share
Shipment
Market share
Shipment
Market share
1
Samsung
60
22%
58
19%
74
24%
3.2%
-18.3%
2
Apple
57
21%
74
24%
56
18%
-23.5%
0.1%
3
Xiaomi
31
11%
33
11%
39
13%
-8.1%
-22.0%
4
Oppo Group
27
10%
24
8%
27
9%
11.7%
-2.2%
5
vivo
21
8%
24
8%
24
8%
-9.3%
-11.2%
6
Transsion
13
5%
17
6%
15
5%
-24.9%
-15.4%
7
Honor
11
4%
14
5%
15
5%
-20.6%
-26.3%
8
Motorola
11
4%
11
4%
12
4%
-6.3%
-12.5%
9
Realme
8
3%
11
4%
15
5%
-27.4%
-43.8%
10
Huawei
6
2%
8
2%
6
2%
-14.7%
14.3%
Others
24
9%
28
9%
24
8%
-13.6%
1.8%
Total
269
100%
302
100%
308
100%
-11.1%
-12.7%
Omdia's Global smartphone shipment preliminary results – 1Q23 (shipment in millions)
Nore: Oppo Group includes Oppe and OnePlus, Transsion includes Tecno, itel and Infinix
"OEMs' shipments have fallen again, as forecasted by Omdia, with the few predicted to increase quarter-on-quarter seeing disappointing figures, particularly Samsung following the launch of the S23 series. The key global economic problem facing the smartphone industry remains inflation, and the resulting squeeze on wage packets and the economy. The problem of high inventory levels is slowly lifting, although the low consumer demand is extending this problem longer than predicted. Our forecast shows that it is likely that the smartphone market will reach the bottom of this dip in the market in 2Q23, before beginning to recover from the second half of this year," Hong concludes in the press release.