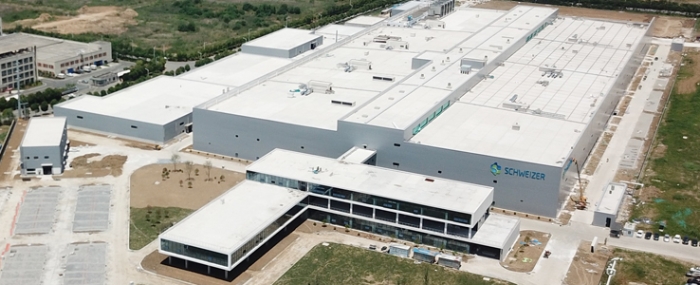 PCB |
Schweizer completes the sale of SEC shares to WUS
The sale of the majority of Schweizer Electronic (Jiangsu) (SEC) to WUS Printed Circuit (Kunshan) has successfully been completed. At the same time, WUS increased its capital with SEC in order to refinance the company and to advance the capacities for the production of the chip embedding technology.
Schweizer Electronic AG now holds 20% and WUS 80% of the SEC joint venture.
"We have a ten-year and proven highly successful strategic cooperation with WUS. WUS, as one of the most successful PCB companies in China and Taiwan, is now taking over the operational management of the joint venture and will also lead our joint site to success by leveraging synergy potentials more strongly with their other sites in China," says Nicolas-Fabian Schweizer, CEO of Schweizer Electronic AG, in a press release.
In connection with the share sale announcement, Schweizer published the full report for its 2022 business year and confirmed the preliminary figures. The Schweizer Group (according to IFRS) achieved sales of EUR 131.0 million in 2022 (previous year: EUR 122.7 million). This corresponds to an increase of 6.8% compared to the previous year.
The order backlog at the end of the reporting year was EUR 234.4 million, which corresponds to an increase of 22% compared to 31 December 2021. Of this, an order backlog of EUR 132.6 million euros is due for delivery in 2023. The order backlog for 2024 and subsequent years already amounts to EUR 101.8 million.
Earnings before interest, taxes, depreciation and amortisation (EBITDA) amounted to EUR -12.3 million (2021: EUR -9.8 million), which corresponds to a rate of -9.4% (2021: -8.0%) and was below the company's expectations. The start-up losses of the Chinese subsidiary and the overall increase in energy and material prices, especially in Germany, had a particularly negative impact on earnings.
Expectations for the 2023 business year
The majority sale of the Chinese subsidiary has had a significant impact on the forecast for the 2023 business year and the transaction will have a particular impact on Schweizer's business results and balance sheet ratios.
For 2023, the company expects sales growth between +5 and +10%. The series start-up of embedding technology is expected to be an important growth driver for 2023.