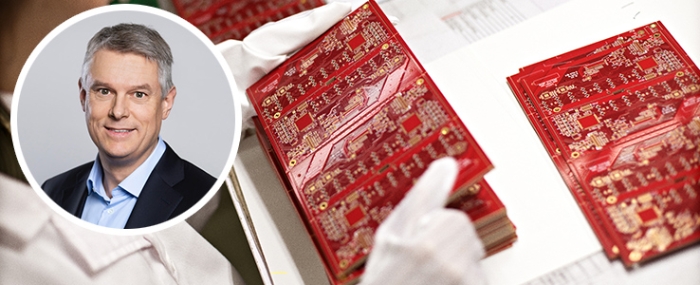 PCB |
Strong result for NCAB in the first quarter of 2023
Continued strong customer demand during the first quarter of the year allowed the PCB to deliver significantly higher earnings than the same quarter last year.
NCAB's net sales were in line with the previous year, at SEK 1.14 billion (EUR 101.14 million). However,
order intake decreased by 12% to SEK 1.02 billion (EUR 89.96 million) from 1.17 billion (EUR 103.18 million) during the same period last year. Order intake was negatively impacted by shorter lead times back to normal and utilisation of the remaining orderbook from 2022.
Operating profit for the period was SEK 172.6 million (EUR 15.21 million), a significant improvement compared with 93.8 million (EUR 8.27 million). Profit after tax amounted to SEK 125.0 million (EUR 11.02 million), compared with SEK 66.2 million (EUR 5.83 million) last year.

"Order intake and sales were adversely impacted by lower prices for PCBs, due to low utilisation levels in the Asian factories. This was primarily the result of weaker business activity in China in 2022 and in the beginning of 2023. However, we saw clear signs of increased activity in China during the first quarter, which is why we believe prices will stabilise," says Peter Kruk, president and CEO of NCAB Group, in a press release.
Despite this, NCAB was able to deliver a significantly higher result during the first quarter of 2023 compared to 2022.
The CEO continues to state that the effects of its customers' reduced inventory levels during the past two quarters have slowed down, and that NCAB has noted a positive trend in order intake during the quarter.
The PCB supplier continues to work towards its financial targets for 2026, which entail sales of SEK 8 billion and EBITA exceeding SEK 1 billion. The company believes that the acquisition market is still full of opportunities and states that it has an active pipeline of potential acquisition targets.
"Following the end of 2022 and beginning of 2023 marked by macroeconomic uncertainties, we are now seeing greater customer confidence and market stability and are entering the second quarter with good momentum," Peter Kruk concludes.