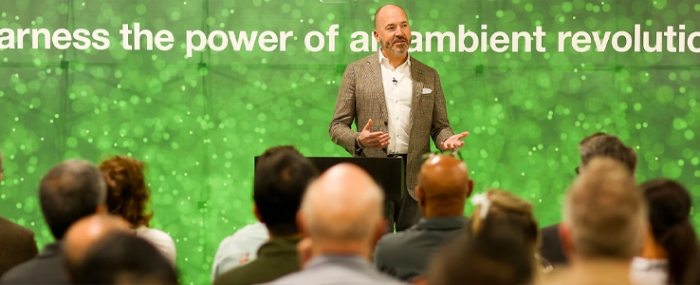 Electronics Production |
Ambient Photonics opens factory for low-light PV cells
Ambient Photonics has started mass production of its low-light photovoltaic (PV) cells at its first factory in Scotts Valley, California.
Ambient's PV cell technology transforms indoor light into energy with – according to the company – three times more power density than conventional technology. PV cells with low-light capabilities could reduce the need for disposable batteries, and thus reduce the carbon emissions of battery-powered devices by as much as 80%.
Ambient says that it is already engaged with global electronics brands to make batteries obsolete in their highest volume devices, including the ETERNA Platform remote from Universal Electronics, Inc (UEI).
Ambient's state-of-the-art, 43,000-square foot facility is one of the world's largest low-light PV cell manufacturing factories capable of producing tens of millions of units a year and is the first of its kind in the US. Ambient was able to rapidly achieve automated production with funding from its USD 48.5 million Series A, which was co-led by Amazon through its Climate Pledge Fund and Ecosystem Integrity Fund (EIF).
"Day 1 of our factory operations marks a major milestone for the growing Ambient team as we celebrate surpassing our aggressive growth targets and global expansion goals," says Ambient CEO Bates Marshall, in a press release. "With our new-to-the-world, highly automated production process now online, we are significantly stepping up our impact on cutting carbon emissions from the world's largest device manufacturers."