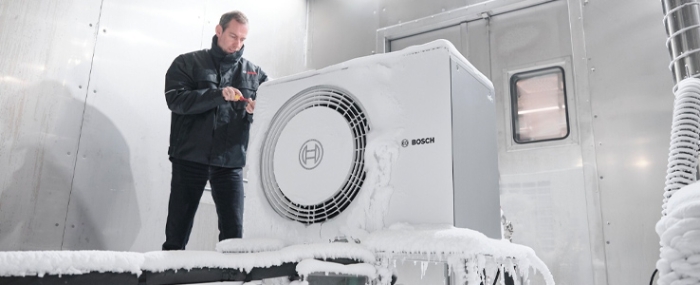 Electronics Production |
Bosch to invest more than €1 billion to expand heat-pump production
Due to significantly increased demand, Bosch has invested heavily in expanding its European heat-pump development and manufacturing network since 2018. To keep the ramp-up of heat pumps running at the required speed, Bosch intends to step up its investments.
"Heat-pump technology is a European success story that we want to continue. At the same time, we are helping to decarbonize the more than 200 million buildings in Europe. For this purpose, we will be investing more than 1 billion euros by the end of the decade," says Christian Fischer, responsible for the company's Energy and Building Technology and Consumer Goods business sectors.
Of this amount, some EUR 255 million will go into a new Polish heat-pump manufacturing site in Dobromierz in Lower Silesia, roughly 70 kilometers from Wrocław, by the end of 2027. Construction work is to start in 2024. The start of production is scheduled for the end of 2025 and some 500 new jobs are to be created by 2027.
Bosch will also be strengthening its existing European locations. At the Bosch Group's oldest location in Eibelshausen in Germany, for example, the new year will see the start of production of indoor units and heat pump that runs on propane. Furthermore, Bosch has significantly expanded its development capacity in Germany since 2019. Overall, the number of models in its heat-pump portfolio has doubled, with existing models being modified or updated. Apart from Eibelshausen, Bosch also develops and manufactures heat pumps in Aveiro, Portugal, Tranås, Sweden, and Wernau, Germany. In Israel, moreover, Bosch is part of a joint venture for reversible heat pumps with Electra Industries.
Heat pumps are a major growth driver for the Bosch Home Comfort Group. Globally, its heat-pump sales grew 54% in 2022. For the European heat-pump market as a whole, annual growth of roughly 20% is forecast between now and 2025. Over the current decade, 30 million additional heat pumps are to be installed in the European Union.
"In the European Union, we expect growth in this very dynamic environment to be exceptionally high, and have set ourselves the target of growing significantly faster than the market. Together with our existing plants in Europe, the new plant in Poland will helps us achieve these growth targets," says Jan Brockmann, the CEO of the Bosch Home Comfort Group in the press release