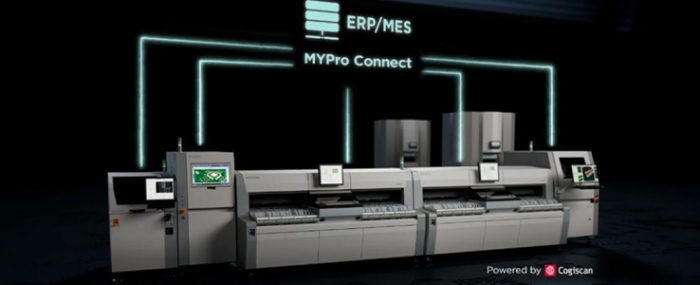 Electronics Production |
Mycronic partnered with Cogiscan to co-develop MYPro Connect
Mycronic has partnered with Cogiscan for the co-development of MYPro Connect. A software solution that enables Mycronic's SPI, AOI, jet printing, and placement equipment to dialogue with any enterprise system (MES, ERP) using IPC-CFX communication protocol.
The software is designed for plug-and-play deployment. MYPro Connect is described as a lightweight, small-footprint solution with no added infrastructure required.
In electronics manufacturing, connectivity is the foundational element to establishing any Industry 4.0 or factory digitalisation initiative. Without connectivity, it is impossible to collect and share accurate and real-time data from the production floor. No matter the extent of the smart factory dream, every electronics manufacturer needs connectivity. To ensure that Mycronic leveraged Cogiscan's flexible and modular factory connectivity solution to ensure compatibility to IPC-CFX.
"We are committed to helping our customers achieve their factory digitalization strategy, regardless of their production volume and product mix. With Cogiscan's vendor-neutral approach and established technical reputation, they were the clear choice to help us develop the MYPro Connect solution to provide our customers with immediate IPC-CFX connectivity, and to deliver regular updates as the protocol evolves," says Wolfgang Heinecke Head of Product Management at Mycronic in a press release.