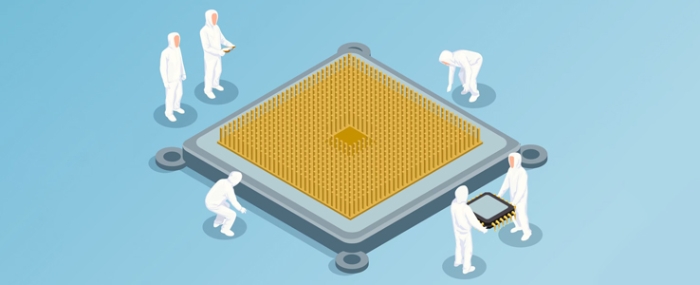 Analysis |
The global chip race – Chip Act against Chip Act
In the wake of the global semiconductor shortage, the US and the EU are both planning to invest significant sums of public funds to increase domestic semiconductor manufacture, otherwise known as the Chips Acts. But how do these semiconductor promotional acts compare against each other?
But before we get to that, let's go over the basis of their existence. What we today know as the CHIPS and Science Act of 2022 started out as the Creating Helpful Incentives to Produce Semiconductors for America Act (CHIPS for America Act), a bipartisan legislation, introduced in June 2020, that would invest tens of billions of dollars in semiconductor manufacturing incentives and research initiatives over the next 5-10 years.
In August 2022, President Joe Biden signed into law the bipartisan CHIPS and Science Act of 2022 – which aims to stimulate investments that will strengthen US manufacturing, supply chains, and national security.
The EU presented its Chips Act in February 2022 as a "comprehensive set of measures to ensure the EU's security of supply, resilience and technological leadership in semiconductor technologies and applications." The act is set to bolster Europe's competitiveness, resilience and help achieve both the digital and green transition.
But what was it that caused governments to realise the need for these massive federal semiconductor projects?
Well, first we have to take a not-so-pleasant trip down memory lane, back to 2020 and to the recent semiconductor shortage that wreaked havoc on industries.
What became painfully obvious was that the current semiconductor manufacturing landscape, with production concentrated in Asia, was creating major bottlenecks for the industry as the Covid-19 pandemic paralysed entire cities, as well as logistics and transportation in and out of major trading hubs.
Local production in Europe and North America was simply not enough to match the demand from the market. The shortage was also exacerbated as major semiconductor manufacturers shifted focus from previously lucrative sectors – which had more or less shut down due to the pandemic – to still booming sectors such as consumer electronics. It wasn't just a shortage of actual components, but also a shortage of production capacity.
The semiconductor shortage in many ways shined a light on our industry, and the general public – and politicians – started to realise the actual importance of the electronics industry as a whole. It's not just computers, semiconductors exist in basically everything. Due to the events of the past years, governments are starting to perceive semiconductors as strategic assets – something that is needed on a domestic level to strengthen economic and national security.
The industry's dependence on overseas semiconductor production has been a particular worry for the US government. Similar to this, the European Union identified semiconductors as something necessary for its own "technological sovereignty".
Looking at the total wafer capacity per region – for 2010, 2015 and 2020, it becomes very clear that Europe (not just the EU) is lagging behind, but the US is also not where it wants to be. Not only does Europe have the smallest wafer capacity today, the region also grew its wafer capacity by only 18% over the past 10 years, in stark contrast to China (+205%), South Korea (+126%) and Taiwan (+67%).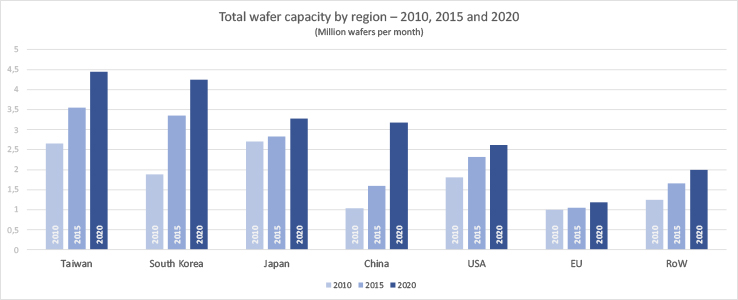 When put into a visual context, it is evident that Taiwan dominates the market in terms of sheer capacity. A large portion of this domination can also be credited to a single company, TSMC, the undisputed semiconductor manufacturing behemoth.
Through TSMC, Taiwan controls the foundry market. According to data from TrendForce, the country's foundry manufacturers accounted for more than 60% of total worldwide foundry revenue in 2020.
© Evertiq

Country
Market share
Company
Market share
Taiwan
63%
TSMC
54%
UMC
7%
VIS
1%
PSMC
1%
South Korea
18%
Samsung
17%
DBHitek
1%
China
6%
SMIC
5%
HH Group
1%
Others
13%
GF
7%
Tower
1%
Others
5%
2020 Total foundry revenue – USD 87.12 billion
Where do we go from here?
The European Chips Act aims to strengthen manufacturing activities in the EU and support the scale-up and innovation of the whole value chain and address the security of supply.
To reach this the Act will mobilise more than EUR 43 billion of public and private investments and set measures to "prevent, prepare, anticipate and swiftly respond to any future supply chains disruption". This is a step aimed at enabling the EU to reach its goal to double its current semiconductor market share to 20% in 2030.
The statement above assumes that the EU has a current capacity of roughly 10%. That would have been true if we were back in 2015 when Europe (not just the EU) had a market share of 9.4%. However, data from the European Semiconductor Industry Association (ESIA) shows that this capacity dropped to about 7.2% by 2020. And the current trend – if nothing is done – has put Europe on course to achieve a 5% manufacturing capacity share by 2025. If we were to look at Knometa Research's new 2022 edition of Global Wafer Capacity report, Europe has already dwindled down to a 5% share.
When President Biden signed the CHIPS and Science Act of 2022 into law, he stated that the CHIPS and Science Act aims to boost American semiconductor research, development, and production.
The US invented the semiconductor, and over 30 years ago, the country had 40% of the global production of these chips. Today the country only produces about 10% of the world's supply.
The CHIPS and Science Act will provide USD 52.7 billion for US semiconductor research, development, manufacturing, and workforce development – with the goal of increasing the level of semiconductor manufacturing in the country and ultimately reducing the dependency on Asian production.
This includes USD 39 billion in manufacturing incentives, including USD 2 billion for the legacy chips used in automobiles and defense systems, USD 13.2 billion in R&D and workforce development, and USD 500 million to provide for international information communications technology security and semiconductor supply chain activities. It also provides a 25% investment tax credit for capital expenses for the manufacturing of semiconductors and related equipment.
In part two of this series, we will explore the finer details of the US CHIPS and Science Act and the EU's counterpart. How do they stack up against each other? What are the key differences? How have other countries and regions reacted to these large-scale semiconductor projects?
During several of Evertiq's Expo in 2023 –in Malmö, Sweden Cracow, Poland and Berlin in Germany, Evertiq will present an overview of the US CHIPS and Science Act and the European Chips Act. Looking at the reason for their existence, comparing strategies and also paying close attention to the effects of the already implemented US Act.