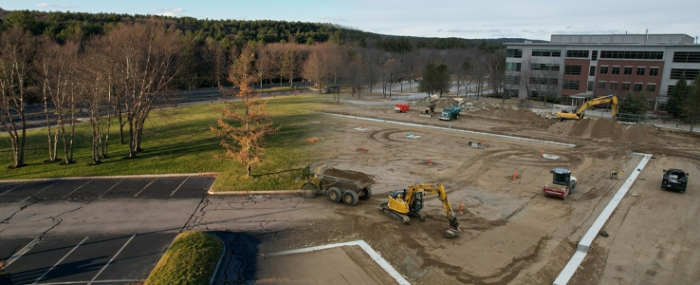 General |
Foundation completed at TüV Rheinland's future US technology and innovation center
TÜV Rheinland North America has completed the structural foundation of its new Technology and Innovation Center (TIC), located in the Boston area. Once completed the new facility will be the company's largest product testing and certification center in the Americas region.
"The multi-million dollar investment that begins with the laying of the foundation represents the response to the needs of our current customers, and a commitment to build a future hand in hand with technology and innovation," says Michael Cronin, Vice President of Sales at TÜV Rheinland North America in a press release.
The name"Technology and Innovation Center" was chosen as it will be equipped with the latest technology in the market to perform tests and certifications for sectors such as electrical product safety, Medical Device Testing, EMC Testing, Robotics, Semiconductor Manufacturing, Photo Voltaic Inverter and Energy Storage.
Robert Mitchell, EMC & Environmental Services Segment Manager TÜV Rheinland North America, says that the new centre, once completed, will offer the company 65,000 square feet of sustainable mix-use laboratory-office space, which will lay the foundation for future growth of the company in the USA, Americas region, and globally.
"The dramatically larger footprint will include a comprehensive testing infrastructure, productive office space for client interactions, and an exciting new office environment for regional staff across our business and support functions," shared Robert Mitchell.
The new facility – which is located approximately 12 miles from TÜV Rheinland's existing location – is expected to be operational at the end of 2023, becoming a first of its kind in the Northeast US.