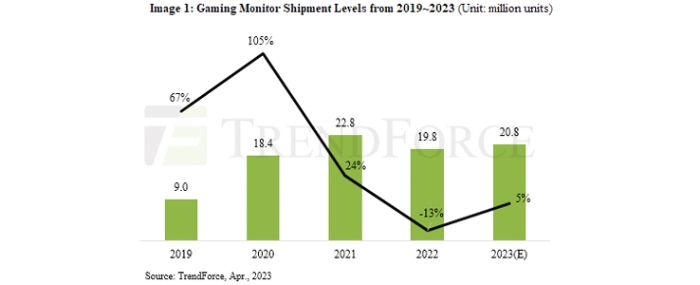 Analysis |
Shipments of gaming monitors fell to 19.8M units in 2022
TrendForce's latest research revealed that shipments of gaming monitors have seen their first decline since 2016 due to high inflation, resulting in only 19.8 million units being shipped in 2022 for a 13% YoY decline.
TrendForce predicts that demand should recover in 2023 however, jumping back up to 20.8 million units—an increase of 5% YoY. This recovery will mostly be driven by three factors: First, a number of brands are replacing their 75Hz models with 100Hz models. Second, the 2023 Hangzhou Asian Games is scheduled to take place in the third quarter, where Esports is set to be one of the competing categories. This will help drive up demand for gaming products. Lastly, China has finally begun lifting COVID restrictions, which means demand for Internet cafes should gradually recover.
TrendForce reveals that vertical alignment (VA) LCD monitors took the lion's share of the market in 2022 at 51%. This was followed by in-plane switching (IPS) LCD monitors at 43.4%, and finally twisted nematic (TN) LCD monitors accounted for 5%. However, it's worth noting that OLED gaming monitors have grown in popularity, taking 0.6% of the market share in 2022. Thanks to the diversification of OLED products, that market share is expected to grow to 1.6% in 2023. Furthermore, TrendForce predicts that IPS monitors may begin competing with VA monitors given that not only are IPS products increasing their market share but many IPS gaming monitors are seeing a continuous price reduction.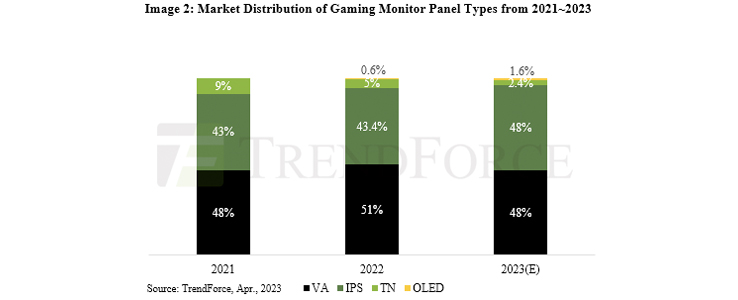 In 2022, 165–180Hz gaming monitors had the highest market share at 51.9%, followed by 120–160Hz monitors at 32.5%, 200Hz and above at 11.7%, and finally 100Hz at 3.9%. TrendForce predicts that the market share of 165–180Hz and 100Hz monitors will increase significantly in 2023. It is believed that 165–180Hz monitors will eventually absorb the market share of 120–160Hz monitors as the price difference between the two ranges is not large. Furthermore, it is expected that 100Hz monitors will come to mostly replace 75Hz gaming monitors, and TrendForce predicts that their market share will increase 5.1 percentage points to 9% in 2023 (the market share of 100Hz monitors mentioned in this article only accounts for gaming monitors).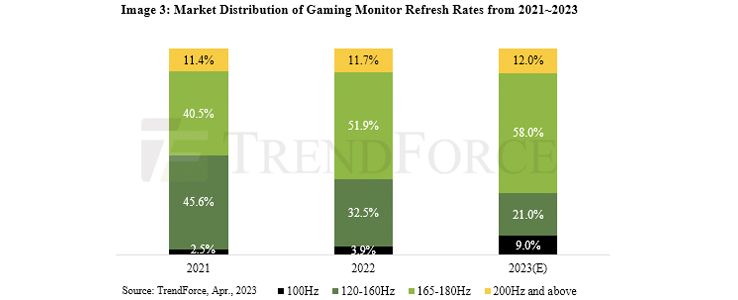 ---
For more information visit TrendForce