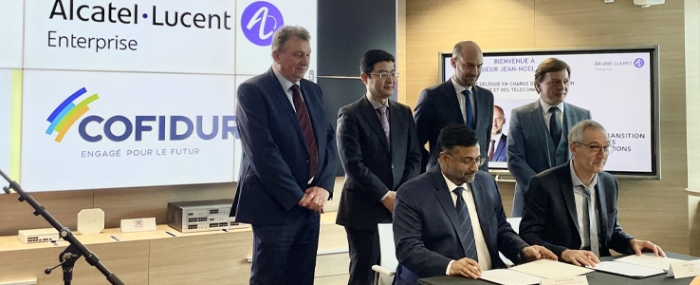 Electronics Production |
Alcatel-Lucent Enterprise brings production home to France
COFIDUR Ems and Alcatel-Lucent Enterprise have entered into an agreement which will allow for the relocation of the production of certain Alcatel-Lucent Enterprise products to COFIDUR Ems' site based in Laval in Mayenne.
With the opening ALE reinforces its industrial presence in France by relocating the assembly and integration of its communication servers.
"I am proud to be here today at the Alcatel-Lucent Enterprise headquarters to celebrate the relocation of the communication servers to the COFIDUR Ems plant in Laval. Re-anchoring the history of Alcatel-Lucent Enterprise in France, in Laval, after the inauguration of new offices in Illkirch last July, means regaining our industrial and technological sovereignty in strategic solutions, such as the assembly and integration of communication servers," says Mr. Jean-Noël Barrot, Minister Delegate for Digital Transformation and Telecommunications in a press release.
With the agreement, Alcatel-Lucent Enterprise is bringing back its activities from Romania. The company explains this decision as part of its efforts to redeploy part of its communications systems production to support the reindustrialisation objectives of its home country, France.
"Alcatel-Lucent Enterprise is moving forward with the strategy of anchoring our industrial activity in France. Following the inauguration of our offices in Illkirch last July, the relocation of our PABX activity to Laval is part of the French industrial revival. Alcatel-Lucent Enterprise is proud to be an active participant in the project to reindustrialise the French economy, making it stronger and more sovereign," says Mr. Nicolas Brunel, Executive Vice President of the Communications Division and President of ALE International.