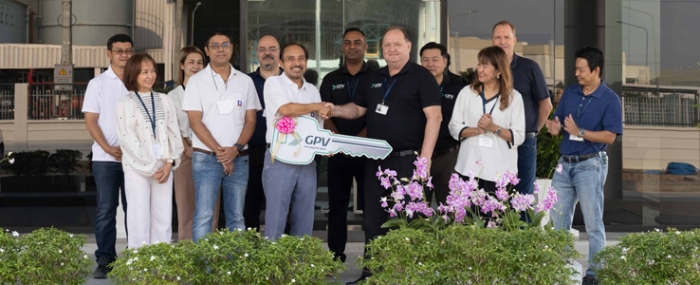 Electronics Production |
GPV completes the first of the two construction projects in Thailand
On 17 March 2023, Bjørn Fiskers, MD at GPV Mechanics TH in Thailand and his team were handed the keys to the new 12,000-square-metre mechanics factory in the country.
GPV will now start to take the new mechanics factory into use, and the company says that it expects it to be fully operational by the end of April 2023.
"We are very proud of our new factory, and we are eager to get our production up and running in the new facility. The team is ready to move into the new factory and to start serving our customers from there", says Bjørn Fiskers, Managing Director at GPV Electronics TH and GPV Mechanics TH, in a press release.
The new mechanics factory is 12,000 square-metre, which is almost twice the size of the current mechanics facility. After moving into the new factory, the current mechanics factory will be refurbished to electronics production and become part of the current 15,000-square-metre electronics factory. Once completed, GPV's electronics production site in Thailand will comprise of 22,000-square-metre production space.
"The completion of the first of the two construction projects in Thailand is an important step in increasing our production capacity and strengthening our operational footprint. The new factory includes state-of-the-art equipment so that we can meet our customers' needs within uniquely specialised mechatronic solutions and box-build. I am proud to see our team work with such dedication to ensure operational excellence", says Bo Lybaek, CEO at GPV.