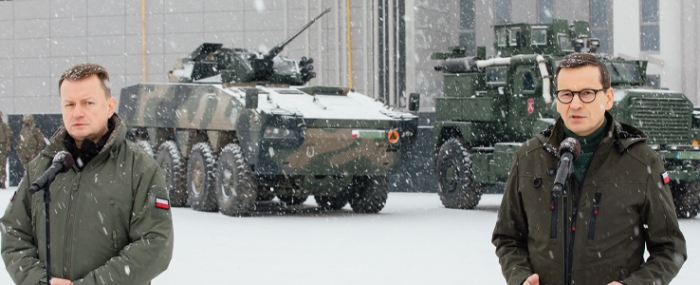 Electronics Production |
Rebuilding and modernising the Polish Army
In light of the Russian invasion of Ukraine, Poland is looking to further increase defence spending and modernise its army.
Last year a bill was introduced in Poland that increased the country's defence spending to 3% of GDP from 2023 on and more than double the number of troops serving in the Polish Armed Forces. However, according to an update from the chancellery of the prime minister, the 2023 budget adopted by the Sejm provides for defence spending in the amount of PLN 97.4 billion, which is nearly 4% of GDP.
Due to the nature of the current geopolitical tension and Russia's war on Ukraine, Evertiq will devote extra attention towards the domestic defence industry during its Expo in Krakow 2023.
As stated in the update from the chancellery, the Polish Army size has been reduced for many years. Many units and training centres of the army have been liquidated. However, Russia's aggression against Ukraine has caused drastic changes in the geopolitics of the region and Europe in general. Poland is thus increasing its investments in defence and equipment.
"We are importing the most modern equipment to Poland and we are manufacturing our own - like Krabs or Thunderbolts" said Prime Minister Mateusz Morawiecki on the subject of modernising the Polish army.
National production for strategically important sectors is essential in many ways. The domestic defence industry is no exception to this.
Under the "Technical Modernization Plan" of the Polish Armed Forces for the years 2021-2035, the Ministry of National Defense has planned a record amount of PLN 524 billion for new armament and equipment for its soldiers.
Earlier in March it became official that K2 tanks will be serviced, repaired and manufactured at WZM Poznan.
"The agreement we concluded with our Korean partner provides technology transfer. Here in Poznań the production of, among other things, such interesting solutions as the hydropneumatic chassis, which is used in the K2 tank, will take place. This is a state-of-the-art solution. But also other components of the tank will be produced here in Poznan. We have ordered 1,000 tanks. There is a contract with South Korea for as many. 180 of these tanks will be delivered as part of the first stage. The tanks will be delivered directly from Korea. The next ones will be co-produced, and then produced right here in Poznań," said Mariusz Błaszczak, head of the Ministry of Defense.
During Evertiq Expo Krakow, speakers from within the defence industry will take to the stage to share their expertise, among others Ron Farkas from Poland - US Operations and Remigiusz Wilk from Grupa WB.