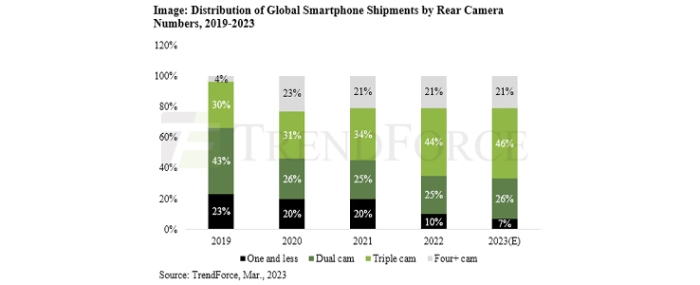 Analysis |
Smartphone camera module output to grow to 4.62 billion Units in 2023
Falling global smartphone production brought about by high inflation and China's COVID policies resulted in only 4.46 billion camera modules being manufactured in 2022. However, as the global economy is slowly set to stabilize in 2023, smartphone production is also projected to rise by 0.9%.
Furthermore, increased production of camera lenses for budget smartphones means that production of phone camera modules is expected to increase by 3.6%, reaching a total output of 4.62 billion units in 2023, according to TrendForce research.
Consumers are now, more than ever, prioritizing camera performance when it comes to choosing a smartphone. With a maturing smartphone market making it more difficult for phone brands to launch significantly innovative products, smartphone manufacturers have elected to highlight improved camera performance to entice consumers to continue upgrading. Smartphone brands such as Samsung, Xiaomi, vivo, and Oppo are set to introduce an advanced periscope camera module in their smartphones that can deliver optical quality. Additionally, smartphone manufacturers have been collaborating with iconic and prestigious photography camera brands (e.g., Xiaomi and Leica; vivo and ZEISS) to provide customers with the finest image quality and details.
When it comes to camera module design, most smartphone brands continue to employ a triple camera setup, with one high-resolution camera and two low-resolution cameras. For example, vivo released the v27 in March of 2023, which featured a main 50 MP wide-angle camera, an 8 MP ultra-wide camera, and a 2 MP macro camera. Similarly, Xiaomi released the Xiaomi Redmi K60 Pro in January, 2023, which featured a main 54 MP wide-angle camera, an 8 MP ultra-wide camera, and a 2 MP macro camera.
Utilizing this particular camera module design allows smartphone manufacturers to maintain triple camera specifications in their phones while minimizing production costs, and allows customers to reap the benefits of a high-performance camera without paying exorbitant prices. TrendForce believes this is why triple cameras will continue to be a major design trend in mid-range smartphones. Since the main camera bears the most responsibility when it comes to camera performance, smartphone brands will continue to use high-pixel resolution camera lenses, mainly from 49 to 64 MP. It has been noted that smartphone brands have been releasing an increasing number of smartphones with even higher camera resolutions. For example, Honor released the X8a in February of this year. Marketing for this phone heavily focused on its 100 MP main camera as the phone's selling point. Samsung also equipped their mid-range Galaxy A73 5G with a 108 MP main camera, demonstrating that smartphone manufacturers are gearing towards significantly upgrading the pixel resolution of their main cameras.
TrendForce reports that smartphone manufacturers will continue to focus on improving rear camera performance when it comes to upgrading smartphone hardware, promoting their phones' picture and video-taking capabilities, and highlighting special features such as night or astrophotography mode. To achieve these performance upgrades, manufacturers will need to not only strengthen the optical performance of their camera modules but utilize AI algorithms and software to improve image quality.
---
For more information visit TrendForce.