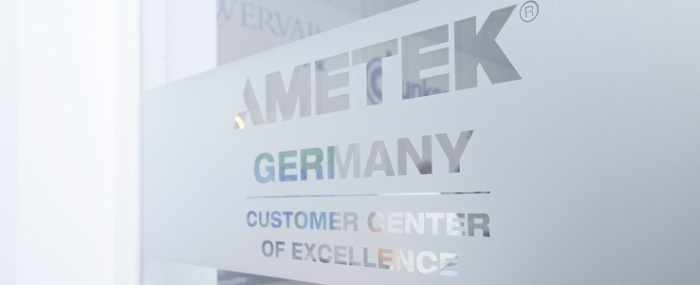 General |
AMETEK opens new customer solutions center in Germany
AMETEK Germany has opened a new Customer Solutions Center in Weiterstadt, Germany.
The overt goal of the Center is to provide the best value and growth opportunities to all AMETEK business units and their customers and to provide an innovation venue for in-depth discussions and the ability to network with and receive support from AMETEK GmbH's technical experts.
"The new facility features the latest products from numerous AMETEK businesses, including SPECTRO, Taylor Hobson, Solartron Metrology, Creaform, MOCON, Reichert, Atlas, Brookfield, Zygo, Dunkermotoren, EGS, Motec, Powervar, SurgeX, Precitech and TMC. Service capabilities for AMETEK products will also be provided. The Center will not just feature the latest products from these companies, as well as offering support for customers from across the region, but it will also supply an array of webinars and opportunities to talk with experts, will host in-person demonstrations and undertake sample testing, offer career days and job fairs, tours for students, and internet or on-site training," says Wiebke Rumpf, AMETEK Germany Country Manager in a press release.
AMETEK GmbH is a part of AMETEK Inc., and has been operating in Germany since 1973. Today the company has 15 locations throughout Germany.
"We are thrilled to take this next step in expansion to solve our valued customers' complex challenges using AMETEK's differentiated technology solutions. The new Customer Solutions Center represents a significant milestone for AMETEK's operations in Germany, and its location near Frankfurt is perfect for customer events, distributor meetings, customer demos and much more," Rumpf concludes.