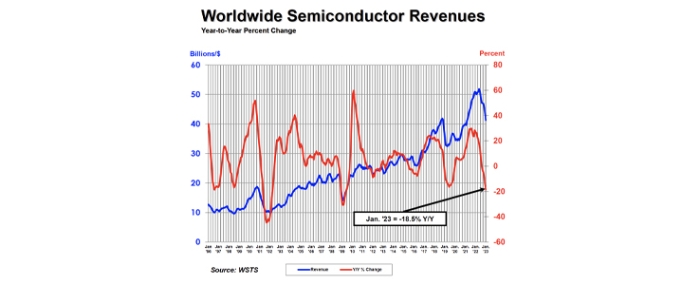 Analysis |
Worldwide chip sales down 18.5% year-to-year
Global semiconductor industry sales totaled USD 41.3 billion during the month of January 2023, a decrease of 5.2% compared to the December 2022 total of $43.6 billion and 18.5% less than the January 2022 total of USD 50.7 billion, report SIA.
"Despite record-high sales in 2022, the global semiconductor market cooled considerably during the second half of the year, and that trend continued during the first month of 2023," says John Neuffer, SIA president and CEO, in a press release.
The CEO continues to state that despite the current short-term cyclical downturn, the long-term outlook for the semiconductor market remains strong. He backs up this outlook with the ever-increasing role of chips in powering critical technologies, both today and tomorrow.
Regionally, month-to-month sales increased slightly in January in Europe (0.6%), but decreased in Japan (-2.1%), Asia Pacific/All Other (-2.7%), the Americas (-7.9%), and China (-8.0%).
Year-to-year sales ticked up in Europe (0.9%) and Japan (0.7%), but fell in the Americas (-12.4%), Asia Pacific/All Other (-19.5%), and China (-31.6%).