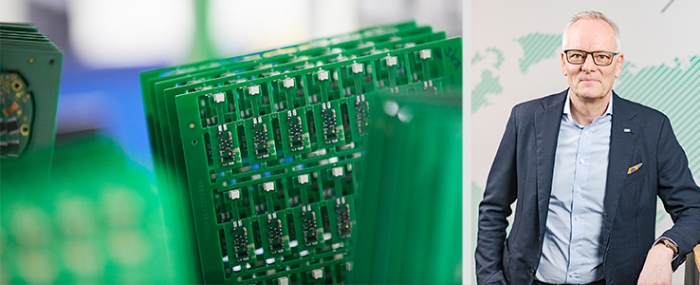 Electronics Production |
GPV exceeds expectations – ends 2022 on a strong note
EMS provider GPV generated revenue of almost DKK 6 billion (EUR 806 million) in 2022, exceeding its expectations for the year.
The company states that the record-high revenue was due to demand-driven activities in Q4, higher prices of components and materials, and the combination with Enics.n.
"We are pleased with our positive performance throughout 2022. We have succeeded in delivering growth over and above our expectations in a continuously challenging year which made it difficult to plan efficient production. Our Q4 revenue was three times higher than in 2021, primarily from the combination with Enics after the deal was closed on 3 October 2022. Another reason for the Q4 revenue increase was much stronger demand from our customers combined with higher prices of components and materials," says GPV CEO Bo Lybæk, in a press release.
GPV's profitability for the year also exceeded expectations and ended with an EBITDA of DKK 465 million (EUR 62.4 million), a 36% increase over the previous year.
"The result reflects increased business activity and shows that we were successful in managing costs and utilising capacity across our many factories despite the challenges with material decommits. During autumn 2022, we lifted our capacity and output further," explains Bo Lybæk.
GPV has 19 production sites in 13 countries on three continents. Following the combination with Enics, GPV is the second-largest European-headquartered EMS company. The strategic ambition is profitable growth towards a revenue of DKK 10 billion by 2026.
Capacity expansion to meet high demand
The expansion of the group's sites in Thailand and Sri Lanka continues as planned and GPV says it expects start of production in Q2 and Q3 2023, respectively. Following the combination with Enics, GPV has launched several other initiatives to meet customer demand, initiating an investment programme to expand capacity.
"I look forward to the extra space we will get for our electronics and mechanics activities at our new state-of-the-art factory in Thailand and to start using the expansion in Sri Lanka within the next few months. This is an important strategic step for us. In the short term, we have also initiated capacity expansion in three of our European sites, supporting deliveries to important customers," Bo Lybæk concludes.
The full-year effect of the Enics combination will significantly affect 2023. On this basis, GPV expects to report revenue in the DKK 8.4 – 8.8 billion (EUR 1.12 – 1.18 billion) range in 2023.