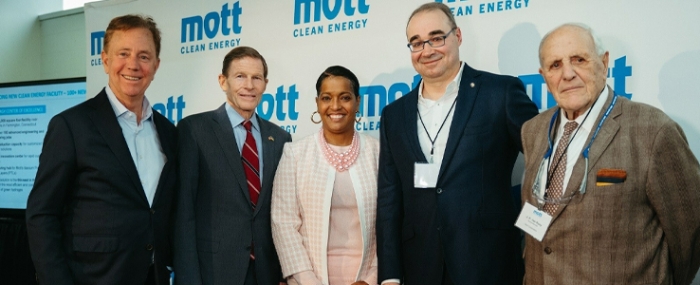 General |
Mott to create 100+ new jobs with new facility
Mott Corporation is opening a new 65,000-square-foot facility near its headquarters in Farmington, Connecticut, which will house at least 100 new employees helping to grow its clean energy business.
Mott is a producer of ultra-thin, porous metal sheets, which are a critical component in the generation of green hydrogen. Global demand for hydrogen is expected to increase fivefold by 2050.
"This investment will bolster Connecticut's role as a home for innovation in clean energy, one of the fastest-growing industries there is," says Boris Levin, CEO of Mott Corporation, in a press release. "Mott has pioneered unique technology that the world's leading energy producers need to generate green hydrogen, and the new facility will dramatically expand our production capacity."
The new facility will double Mott's production capacity for its custom-designed engineering solutions, and the total investment will be tens of millions of dollars over the coming years.
"In Congress, we passed the CHIPS and Science Act and the Inflation Reduction Act to jump-start the workforce and bring manufacturing back to the United States," adds Representative Jahana Hayes. "I am pleased that the Mott Corporation is addressing the semiconductor supply issue and creating job opportunities that provide clean energy solutions in the Fifth District and Connecticut."