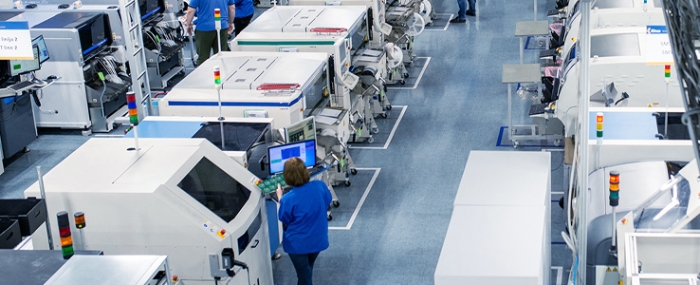 Electronics Production |
Kitron ends 2022 with record revenue, profits and backlog
EMS provider Kitron closed the fiscal year 2022 with record levels for revenue, profits and order backlog, driven by a strong market and better component availability.
Kitron's revenue for the fourth quarter was NOK 1.81 billion (EUR 165.87 million), compared to NOK 949 million (EUR 86.78) last year.
Fourth-quarter operating profit (EBIT) was NOK 165.0 million (EUR 15.10 million), compared to 52.3 million last year (EUR 4.7 million). EBITDA was NOK 203.2 million (18.6 million), compared to 78.4 million (EUR 7.1 million) last year.
The order backlog ended at NOK 6.09 billion (EUR 558.59 million), an increase of 116% compared to last year. The company also states that market sectors show growth.
"We are pleased to report positive quarter-over-quarter growth in 2022, thanks to the alleviation of supply constraints. This has allowed us to ramp up production and meet the surging demand from our clients, leading to improved operational efficiency and robust margins in the fourth quarter. Our diverse market sectors continue to experience strong demand, and we anticipate this positive trend to persist in 2023. We are seeing heightened activity among numerous customers, particularly in the defence sector, as they drive growth and expansion," says Peter Nilsson, Kitron's CEO, in the report.
Full-year revenue of NOK 6 487 million (EUR 594.4 million) gave an overall increase in revenue of 75% for the year.
Operating profit (EBIT) for the year ended at NOK 459.6 million (EUR 42.1 million), compared to NOK 240.8 million (EUR 22 million) in 2021. Profit after tax was NOK 287.1 million (EUR 26.3 million), up from NOK 152.8 million (EUR 14.0 million).