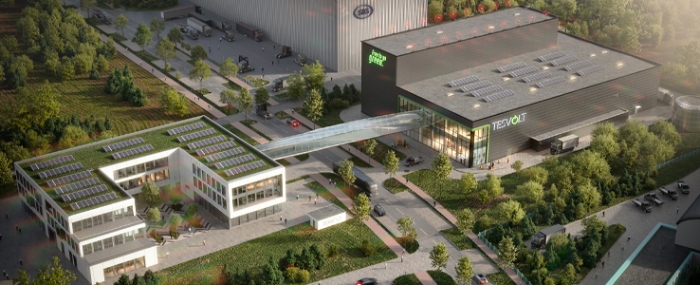 Electronics Production |
Tesvolt invest €60 million to build new German gigafactory
The company is planning to build a new Gigafactory at its headquarters in Lutherstadt Wittenberg, Germany. With the new factory, the company is looking to increase its current production capacity tenfold.
The planned construction will include a highly automated production building for battery storage systems as well as a new research and development centre. The company states in a press release that the aim is for the facility to ultimately reach a production capacity of up to 4 GWh per year. Construction is set to start during the spring of 2023 with completion slated for 2024.
In order to reach its goal, Tesvolt is investing around EUR 60 million in the construction of the two new buildings and the renovation of existing facilities. The company is expecting to be eligible for subsidies of up to EUR 12 million through the Investitionsbank Sachsen-Anhalt.
In the long term, Tesvolt expects to create more than 400 jobs, primarily in the areas of research and development, logistics, and project planning with the expansion. The company further states that the site will be one of the largest facilities for commercial stationary battery storage systems in Europe.
"In the future, our new Gigafactory is set to produce up to 80,000 storage systems per year – that equates to a tenfold increase on today's production capacity. With this milestone, we are contributing to an increase in international independence for the European energy transition," says Daniel Hannemann, Tesvolt's CEO and co-founder, in the press release.
At the new factory, battery storage systems will be manufactured over two floors measuring almost 6,000 square metres in total. A fully automated high-bay racking system will quadruple the storage capacity, while a new production line using robots will ensure highly efficient, flexible and scalable production of battery modules.
The aim for the new research and development building is to be the starting point for future innovative hardware and software from Tesvolt. A glass footbridge will connect the R&D building with the factory, thus enabling close communication between teams.