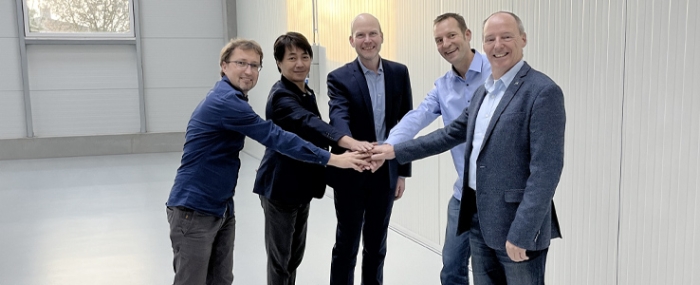 Electronics Production |
Solarnative GmbH invests in a new SMT production line
Solarnative Germany is investing EUR 1 million in a brand new SMT production line for their new facility in Hofheim am Taunus in Germany.
This first production line from JUKI Automation Systems marks the start of what the company describes as a "new prospering journey" and is an important step in the growth plans of Solarnative. This growth was one of the main reasons Solarnative selected SMT Renting as their financial partner in this deal.
With this first step, Solarnative, SMT-Renting and JUKI are kicking off their strategic partnership to set up a solar micro-inverter Gigafactory in Germany. Solarnative's goal is to ramp up the manufacturing of their unique high-frequency micro-inverter starting in May 2023 and expand the production capacity to more than a gigawatt within the first years.
"Through SMT Renting we can avoid high CAPEX since the monthly lease cost are booked as operational expenses. This way we can keep the money in the company, which is needed for our fast growth. Furthermore, we see that the technology is changing rapidly, and we expect the equipment to be upgraded or replaced within the next few years. The SMT Renting concept supports this and therefore it suits us very well," says Julian Mattheis, CEO of Solarnative Germany, in a press release.
Julian continues to explain that Solarnative is planning to expand the SMD line in Q3 2023 with another EUR 0.5 million investment to increase the production capacity by 50%. Further investments are scheduled for Q2 2024.
The new production line is a total line solution from JUKI Automation Systems. Next to the SMT line JUKI will also deliver the logistic solution to automatically manage the supply of the electrical components that are needed at the SMT line.