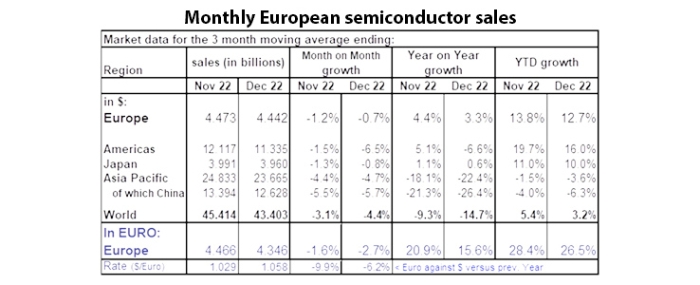 Analysis |
European semiconductor market hits highest-ever annual total
Yearly semiconductor sales in the European market reached a record figure of USD 53.809 billion in 2022, a 12.3% increase versus the year 2021. Global semiconductor sales in 2022 amounted to USD 573.477 billion, a 3.2% increase from 2021, reports the European Semiconductor Industry Association (ESIA).
Looking at month-to-month developments, European semiconductor sales in December amounted to USD 4.442 billion, or a 3.3% increase versus the year before. The main drivers of December's growth were the total MOS micro-component and total analog product categories. Sales of application-specific chips grew steadily in December, with automotive performing particularly well.
In 2022 overall, the effects of exchange rates on the European sales picture amounted to a growth difference of 13.8%. Measured in Euros, the total market increased by 26.5% in 2022 versus 2021 and amounted to EUR 51.128 billion. In December 2022, exchange rate effects were less visible compared to November. Measured in Euros, semiconductor sales were EUR 4.346 billion in December 2022, up 15.6% versus the same month a year ago.