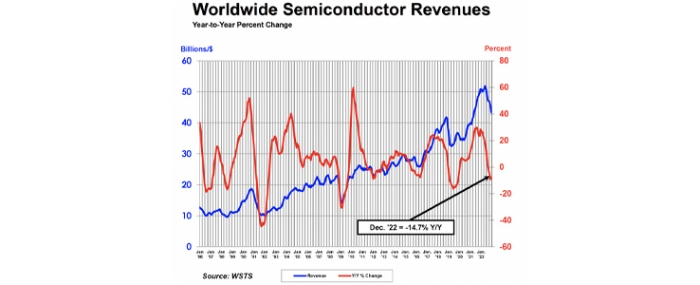 Analysis |
Global semiconductor sales Increase 3.2% in 2022
Worldwide industry sales totaled a record USD 573.5 billion in 2022, but sales slowed significantly during the second half of the year.
Global semiconductor industry sales totaled USD 573.5 billion in 2022, the highest-ever annual total and an increase of 3.2% compared to the 2021 total of USD 555.9 billion, reports the Semiconductor Industry Association (SIA).
Sales slowed during the second half of the year, however. Fourth-quarter sales of USD 130.2 billion were 14.7% less than the total from the fourth quarter of 2021 and 7.7% lower than the total from third quarter of 2022. And global sales for the month of December 2022 were USD 43.4 billion, a decrease of 4.4% compared to the November 2022 total.
"The global semiconductor market experienced significant ups and downs in 2022, with record-high sales early in the year followed by a cyclical downturn taking hold later in the year," said John Neuffer, SIA president and CEO, in a press release. "Despite short-term fluctuations in sales due to market cyclicality and macroeconomic conditions, the long-term outlook for the semiconductor market remains incredibly strong, due to the ever-increasing role of chips in making the world smarter, more efficient, and better connected."
On a regional basis, sales into the Americas market saw the largest increase (16.0%) in 2022. China remained the largest individual market for semiconductors, with sales there totaling USD 180.3 billion in 2022, a decrease of 6.3% compared to 2021.
Annual sales also increased in 2022 in Europe (12.7%) and Japan (10.0%). Sales for the month of December 2022 decreased compared to November 2022 across all regions: Europe (-0.7%), Japan (-0.8%), Asia Pacific/All Other (-3.5%), China (-5.7%), and the Americas (-6.5%).
Several semiconductor product segments stood out in 2022. Analog, a type of semiconductor that is commonly used in vehicles, consumer goods, and computers, had the highest annual growth rate of 7.5%, reaching USD 89 billion in 2022 sales. Logic (USD 176 billion in 2022 sales) and memory (USD 130 billion) were the largest semiconductor categories by sales. Sales of automotive ICs grew by 29.2% year-over-year to a record total of USD 34.1 billion.