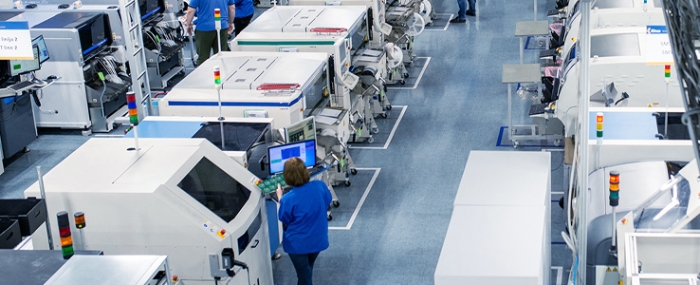 Electronics Production |
Kitron expands its manufacturing capacity – adds 6 new lines
EMS provider Kitron has big plans to increase its manufacturing capacities and capabilities during the coming years. In 2023 alone the company is adding additional machinery at four different locations.
Back in early 2022, Kitron completed its acquisition of Danish EMS provider BB Electronics. The result of this was that Kitron added over 100 new customers and strong revenues in several different segments. At the same time, the company's existing business has been running strong – and this includes new program wins in the Connectivity and Electrification sectors – which has led to record revenue and order backlog.
In a blog post, the Norwegian EMS provider says that it will continue to invest 2-3% of its revenue in capacity and capability expansions over the coming years. And in 2023 alone this will take the form of six new SMT lines that will be up and running at four different factories. At the same time, the company says that it will be adding new equipment to existing lines in order to improve speed, efficiency, and cost.
"By adding new machinery for coating, soldering, and installing a powerful and intelligent THT insertion machine, we will be able to handle more complex product lines. We also continue our journey toward automation," the company writes.
The company says that significant steps have already been taken over the past five years, and that the company is ready to roll out – what it claims to be industry-leading – practices across more factories, like automated through-hole insertion lines, fully automated high-level assembly lines and utilisation of additive manufacturing and rapidly being able to adapt machines to various end products.
"As a company, we look forward to further growth in the future. Our goal is to support the demand of our customers and meet their capacity needs," Stian Haugen, CTO of Kitron Group, says in the blogpost.