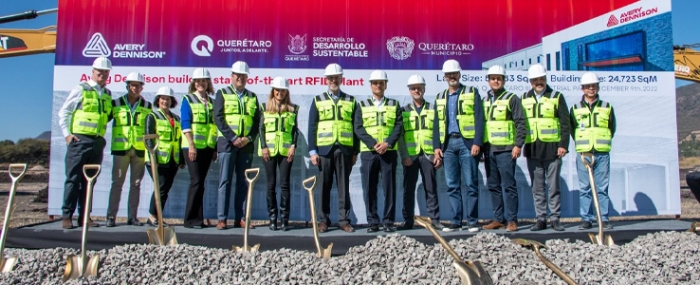 Electronics Production |
Avery Dennison invests $100 million in new Mexican RFID plant
Avery Dennison is looking to significantly expand its production capacity in the Americas region with a new manufacturing site in Querétaro, Mexico.
The company says in a press release that it expects to invest over USD 100 million, generating more than 600 technology jobs, to build the new plant.
The new facility is expected to be operational by the end of the first quarter of 2024 and will be the company's largest RFID plant globally. The facility is being established to meet the accelerating global growth and will complement Avery Dennison's existing RFID plants in In the Americas, US, Mexico and Brazil.
The new 25,000 square metre plant will be located in Querétaro's new FINSA III industrial park and will manufacture a breadth of RFID technology solutions to meet the varying customer needs in the region.
"As markets evolve, we are seeing greater interest in RFID solutions in the Americas region," said Francisco Melo, global senior vice president and general manager of Avery Dennison Smartrac, in a press release. "While RFID solutions are accelerating in the US and Europe, Latin America is gradually adopting this innovative tool. Now is the ideal time for Avery Dennison to lead the growth of RFID solutions throughout the region, unlocking the potential for a more connected world."
This investment has been supported by the Government of the State of Querétaro. Avery Dennison has partnered with the State of Querétaro and the municipality of Querétaro to develop new jobs, local and foreign training, infrastructure, recruitment and supplier development.