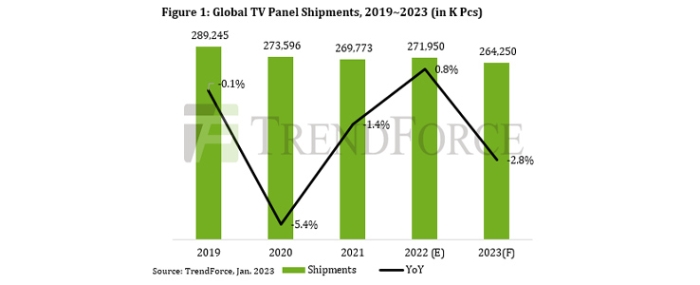 Analysis |
Shipments of TV panels are projected to drop by 2.8% YoY for 2023
The ongoing Russia-Ukraine military conflict and high inflation will continue to affect the global economy and politics during 2023.
The recent decline of the global economy, in particular, has significantly dampened the outlook on sales of whole TV sets since the performance of the TV market primarily depends on consumer demand. Therefore, TrendForce projects that shipments of TV panels will fall by 2.8% YoY to a total of 264 million pieces for 2023.
However, the shipment performances of the LCD and OLED segments of the TV panel market will diverge dramatically during 2023. South Korean panel makers already started to leave the market for LCD panels in 2022 and are reorienting the focus of their product development efforts towards OLED. Going forward, the growth and diversification of OLED offerings will definitely contribute to the increase in shipments of OLED TV panels. Furthermore, Samsung Electronics has been proactive in the adoption of the QD OLED TV panels provided by Samsung Display. Shipments of QD OLED TV panels are forecasted to increase substantially by 26.5% YoY for 2023 and thereby notably contribute to the projected YoY growth rate of 7.8% for the total OLED TV panel shipments in the same year. The aforementioned development will also help slightly raise the OLED penetration rate in the TV panel market to 3.1% in 2023.
Conversely, shipments of LCD TV panels will be more severely affected by the weakening economy. This is because the LCD segment of the TV panel market has already reached maturity and is in plentiful supply. Shipment of LCD TV panels are projected to drop by 3.1% YoY to 256 million pieces for 2023. However, the current market situation is favorable for panel makers to promote ultra-large-sized TV panels despite the cautious demand outlook. There are two reasons for this. First, freight transportation fees are falling to their usual level. Second, quotes for ultra-large-sized TV panels have dropped to a sweet spot. TrendForce is optimistic that the average size of LCD TV panels will grow this year. The increase is currently estimated to come to 1.5 inches, thus expanding the average size of LCD TV panels to almost 50 inches.
Chinese panel makers have a huge production capacity for LCD panels and remain highly competitive, so their collective market share for LCD TV panels is projected to climb further to 70.4% in 2023. Among them, BOE, CSOT, and HKC are expected to retain their positions as first, second, and third respectively in the ranking of LCD TV panel suppliers by shipments. Chinese panel makers are also gaining a greater influence over the TV panel market as their supply concentration ratio continues to rise. Turning to panel makers based in Taiwan, Innolux will be able to raise its market share for LCD TV panels to around 14.1% in 2023. The growth will be mainly attributed to the rerouting of the orders resulting from CEC-Panda scaling back its supply of 38.5-inch products. As for AUO, its market share for LCD TV panels will also elevate slightly to 5.2% due to the growth of orders from its main clients.
Regarding Korean and Japanese panel makers, LGD will see its market share for LCD TV panels retreat to 4.6% in 2023 since its P7 fab in South Korea produced its last batch of LCD TV panels in December last year. Sharp has been facing weak demand for the products from its fabs in Japan, but more new products are being manufactured at its Gen10.5 fab in Guangzhou, China. Taking account of these developments, Sharp's market share is forecasted to reach 5.7% in 2023.
TrendForce points out that based on current observations, the risk of a supply-demand imbalance is going to be higher for IT panels than for TV panels during 2023. Since TVs have larger screens, the consumption of production capacity proceeds at a faster pace for TV panels. TrendForce is not ruling out the possibility that panel makers could adjust their product mixes to give more weight to TV panels if they find that the production capacity for IT panels has been idling too long. Such development would certainly affect the future supply-demand dynamics of the TV panel market as well. Moreover, panel makers will be under pressure to turn from loss to profit this year, so the strategy for adjusting the capacity utilisation rate will be very important to them. If suppliers fail to maintain discipline, then the whole panel market will unlikely return to a balanced state in 2023.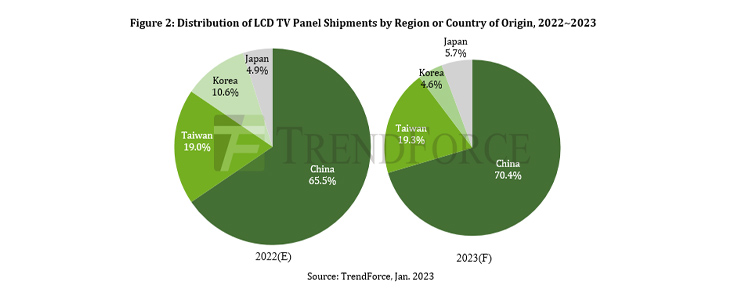 ---
For more information visit TrendForce.