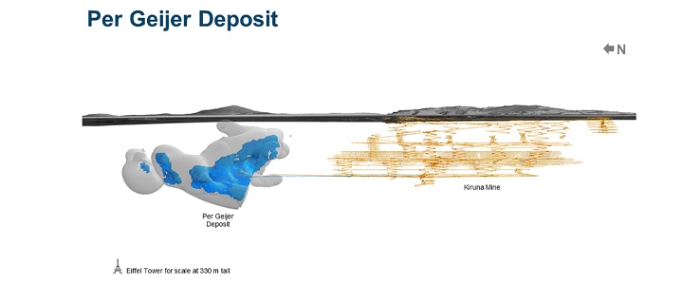 General |
Europe's largest deposit of rare earth metals found in Northern Sweden
Swedish mining and mineral group, LKAB, has identified significant deposits of rare earth elements in the Kiruna area, metals which are essential for, among other applications, the manufacture of electric vehicles and wind turbines.
Following successful exploration, the company is reporting mineral resources of rare earth metals exceeding one million tonnes of rare earth oxides – which makes it the largest known deposit of its kind in Europe.
"This is good news, not only for LKAB, the region and the Swedish people, but also for Europe and the climate. This is the largest known deposit of rare earth elements in our part of the world, and it could become a significant building block for producing the critical raw materials that are absolutely crucial to enable the green transition. We face a supply problem. Without mines, there can be no electric vehicles," says Jan Moström, President and Group CEO, LKAB, in a press release.
No rare earth elements are currently mined in Europe, at the same time, demand is expected to increase dramatically as a result of electrification, which will lead to a global undersupply, and this at a time of increasing geopolitical tensions.
According to the European Commission's assessment, the demand for rare earth elements for electric cars and wind turbines, among others, is expected to increase more than fivefold by 2030. Today, Europe is also dependent on imports of these minerals, where China completely dominates the market.
"Electrification, the EU's self-sufficiency and independence from Russia and China will begin in the mine. We need to strengthen industrial value chains in Europe and create real opportunities for the electrification of our societies. Politics must give the industry the conditions to switch to green and fossil-free production. Here, the Swedish mining industry have a lot to offer. The need for minerals to carry out the transition is great," says Swedish Minister for Energy, Business and Industry, Ebba Busch in the press release.
However, the road to possible mining of the deposit is long. The first step is to apply for an exploitation concession for the Per Geijer deposit in order to be able to investigate it further at depth and also to investigate the conditions for mining. The plan is to be able to submit an application for an exploitation concession in 2023.