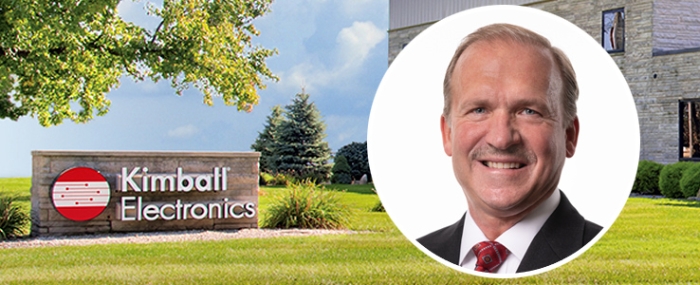 Electronics Production |
Don Charron steps down and retires as CEO of Kimball Electronics
Donald Charron, who has held the helm of EMS provider Kimball Electronics for nearly a quarter century, is stepping down and retiring on February 28, 2023.
Richard D. Phillips will join Kimball Electronics on March 1, 2023, as Chief Executive Officer and a Director, bringing with him executive leadership experience from across manufacturing, distribution, industrial, consumer, and healthcare.
Lead Independent Director, Robert J. Phillippy, a member of the Kimball Electronics Board since 2018, will become the company's non-executive Chairperson, a press release reads.
"Today marks the end of an era at Kimball Electronics. It is hard to put into words the profound impact Don has had on each of us, and the Company. Under his leadership spanning 24 years, Kimball Electronics has grown from a division of its parent company to a publicly-traded, global enterprise with annual revenues rapidly approaching the $2 billion threshold," Mr. Phillippy says in a press release.
Mr. Charron joined Kimball International in 1999 to lead the Kimball Electronics Group. During his tenure, he has positioned Kimball Electronics for success with geographic expansions in Thailand, China, Poland, and Romania, and led its portfolio diversification with applications supporting the automotive, medical, and industrial vertical end markets. In 2014, Kimball Electronics spun-off from its parent company, Kimball International, and became an independent, publicly-traded company listed on Nasdaq, and Mr. Charron was appointed Chairman and CEO. In fiscal 2018, Kimball Electronics exceeded USD 1 billion in annual revenue for the first time in its history. In fiscal 2021, the company reported record revenue, profitability, and Return on Invested Capital.
"It is with immense gratitude and pride that I say farewell to the Kimball family. Thank you for a journey of a lifetime. I am so proud of what we have accomplished together, and grateful for the support and partnership I received along the way. It has been a team effort, and I'm leaving with friendships and memories that will last forever," Mr. Charron says in the press release,
Mr. Phillips is an independent Director of the Greenheck Group. With more than 20 years of experience in executive and advisory roles, Mr. Phillips was most recently the President and Chief Executive Officer from 2019 until 2022 for Elkay Manufacturing Company.