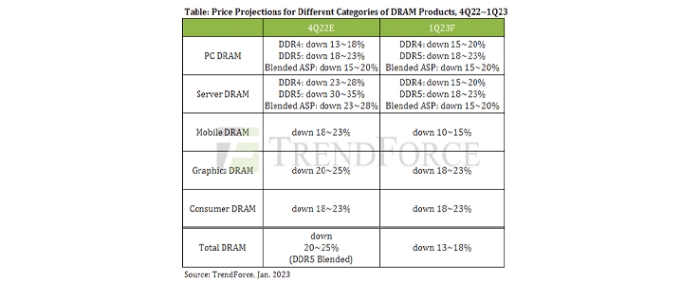 Analysis |
QoQ decline in DRAM ASP will moderate to around 13~18% for 1Q23
TrendForce's latest analysis of the DRAM market finds that the inventory pressure on suppliers remains significant due to the persistently weak demand for consumer electronics.
Among the top three DRAM suppliers, only Samsung has seen a slight drop in inventory level thanks to its highly competitive pricing strategy. To prevent DRAM prices as a whole from making another sharp dive, a few suppliers such as Micron have been cutting production. Therefore, the QoQ decline in DRAM prices are projected to shrink to around 13~18% for 1Q23. However, the slump will have yet to reach the bottom at that time. Regarding the QoQ changes in the prices of the major categories of DRAM products for 1Q23, PC DRAM and server DRAM are projected to again register a drop that is near 20%. Conversely, mobile DRAM will experience the smallest price decline because its profit margin is ready the thinnest.
In the PC DRAM segment, PC OEMs have lowered procurement quantity for two consecutive quarters as sales of notebook (laptop) computers have been lackluster. Now, moving into 1Q23, PC OEMs hold around 9~13 weeks of PC DRAM inventory. Even though they are working hard to consume the existing stock, the traditional low season acts as a powerful constraint. The overall PC DRAM bit output is expected to fall during 1Q23 because Micron has already made a marginal cut to its PC DRAM production, and SK Hynix will soon follow suit. However, supply glut will still be significant in the PC DRAM segment. The top three suppliers have been aggressive in lowering prices for DDR5 products, so the DDR5 penetration rate in the PC DRAM segment is projected to reach almost 20% in 1Q23. Regarding QoQ changes in PC DRAM prices for 1Q23, DDR5 products will experience a drop of around 18~23%, and DDR4 products will experience a drop of around 15~20%. The ASP of PC DRAM products is projected to fall by around 15~20% QoQ for 1Q23.
Turning to the server DRAM segment, server demand is going to fall during 1Q23 because of the effects of the traditional low season, inventory adjustments, and the recent weakening of the global economy. North American cloud service providers have already started to dial down server demand in terms of procurement quantity and the pace of server deployment. However, suppliers continue to raise the share of server DRAM in production, so this segment continues to face mounting inventory pressure. While some suppliers are cutting production, this is not enough to effectively limit the decline in server DRAM prices. Regarding QoQ changes in server DRAM prices for 1Q23, DDR5 products are expected to suffer a decline of 18~23%, which is slightly larger compared with the projected drop experienced by DDR4 products for the same period. However, the DDR5 penetration rate in the server DRAM segment is projected to reach just around 10% in 1Q23. Thus, DDR4 products are going to determine the extent of the general decline. Currently, the ASP of server DRAM products is projected to fall by around 15~20% QoQ for 1Q23.
The mobile DRAM segment has benefited from about six quarters of inventory adjustments on the part of smartphone brands. Currently, smartphone brands hold 5~7 weeks of mobile DRAM inventory on average, so the inventory situation is fairly optimal. On the other hand, smartphone sales have been in a slump. A rebound is not expected in the short term, especially after the latest change in China's policy on controlling COVID-19 outbreaks. With smartphone brands lowering their device sales targets for 2023, there will be a certain degree of difficulty when it comes to inventory consumption in the mobile DRAM segment. However, mobile DRAM quotes are starting to show a more moderate decline than before because suppliers have scaled back production, and the effect of this will become more prominent over time. Moreover, mobile DRAM already has the lowest profit margin compared with other categories of DRAM products. Since the market consensus is that the demand for mobile DRAM products will remain weak, slashing prices further will do little in helping suppliers to capture more market share. Hence, TrendForce projects that the QoQ decline in mobile DRAM prices will narrow to around 10~15% for 1Q23.
With regard to the graphics DRAM segment, shipments are going to ramp up for graphics cards and notebook computers featuring the latest GPUs. However, the overall demand for consumer electronics is sluggish, and the previous period for inventory adjustments was quite long. Therefore, graphics DRAM buyers maintains a cautious procurement strategy. Furthermore, demand growth still lagged behind supply growth in graphics DRAM segment during 4Q22, so inventory continues to pile up for this product category on the supply side. Additionally, for the specifications of the mainstream graphics DRAM solutions, there will be a full-scale shift in buyers' demand from GDDR6 8Gb to GDDR6 16Gb during 2023. With the demand for them becoming more limited, graphics DRAM products based on GDDR6 8Gb will experience more dramatic price fluctuations. TrendForce currently projects that the ASP of graphics DRAM products will fall by about 18~23% QoQ for 1Q23, but the decline could get larger if suppliers continue to undercut each other in this segment.
Lastly, in the consumer DRAM segment, prices have yet to leave the downturn phase as there are no signs of buyers ramping up procurement activities. Also, the flow of consumer DRAM orders related to networking devices was steady before but has now started to gradually decelerate this first quarter. Due to these developments, shipments of consumer DRAM products on the whole are going to slide. Even though Micron began to cut production in November last year, suppliers' DRAM inventories have been climbing to new heights. This segment will continue to experience excess supply unless suppliers undergo several quarters of inventory adjustments and make larger production cuts. TrendForce projects that the ASP of consumer DRAM products will fall by 18~23% QoQ for 1Q23 as supply glut persists in this segment.
---
For more information visit TrendForce.