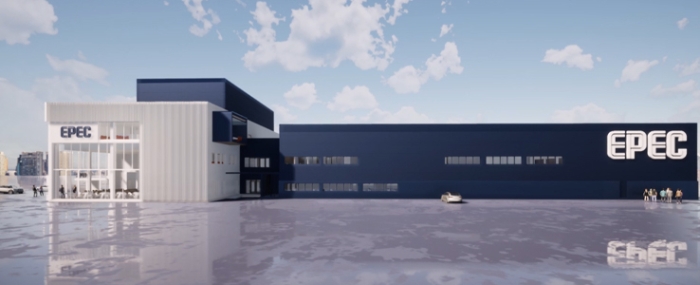 Electronics Production |
Epec expands with new electronics factory in Finland
Finnish technology company Epec is building a new electronics factory in Seinäjoki, Finland. ESF1 (Epec Smart Factory 1) will include a three-story office space and a total of 8,500 square metres of factory space.
Epec states in a press release that the headquarters, along with its R&D, engineering, support and production functions will move to new premises from its current premises on the Seinäjoki campus. In addition to Seinäjoki, the company also has offices in Tampere, Turku and Kuopio in Finland, and Shanghai in China.
Construction of ESF1 started in spring 2022 and the new facilities will be operational towards the end of 2023.
"The investment is significant for Epec, enabling the strong growth we are currently experiencing," says Jyri Kylä-Kaila, Managing Director of Epec, in the press release. "Digitalisation and electrification are rapidly increasing their share of the non-road machinery and commercial vehicle sector, which has opened up new and expanding markets for Epec. With a state-of-the-art factory, we are able to meet growing demand and increasingly stringent customer requirements, for example in terms of manufacturing processes. The Western Finland region has a technology cluster that supports operations, and the Seinäjoki centre of growth provides a good framework for growing operations."
Epec is a system supplier developing and manufacturing electronics and software for non-road mobile machines (NRMM) and commercial vehicles. Epec products include control units, displays, sensors, power distribution units and telematics units.
The company has grown rapidly in recent years. Between 2019 and 2022, the number of people increased by almost 70%. Riikka Rajala, HR Manager at Epec, says that recruitment needs are still high.
"The greatest need at the moment is for various product development and programming positions, but other specialists, assemblers and administrative staff are also needed. As we keep growing, we constantly have a lot of vacancies and a significant need for new people."
The new factory will initially accommodate 250 employees. Provision has also already been made for the expansion of the premises.