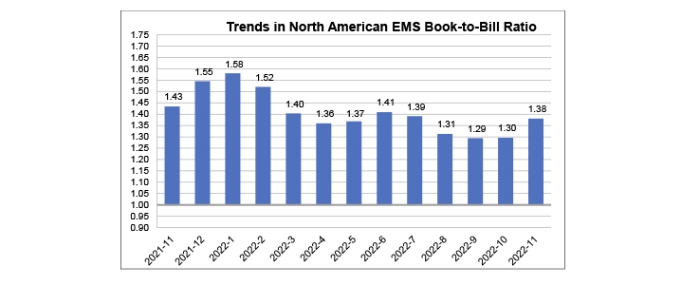 Electronics Production |
North American EMS industry down 0.6% in November
Total North American EMS shipments in November 2022 were down 0.6% compared to the same month last year. Compared to the preceding month, October shipments decreased 8.8%, reports the IPC.
EMS bookings in October decreased 9.1% year-over-year and decreased 6.6% from the previous month. The book-to-bill ratio stands at 1.38.
"The industry recorded a decline in orders for the second consecutive month, but shipments were also subdued, keeping the book-to-bill elevated. Shipments are roughly 15% below what we would expect given recent order volume, likely a sign of continued supply chain challenges," said Shawn DuBravac, IPC's chief economist.