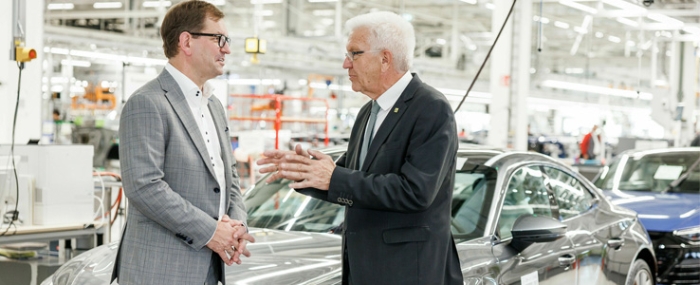 Electronics Production |
Audi is "massively investing" in Neckarsulm's electric future
Audi's Neckarsulm plant in Germany is undergoing a transformation in the course of the German auto giant's electrification strategy.
It was during Winfried Kretschmann's visit at Audio's Neckarsulm location on mid-July that "ideas about the transformation of the auto industry" and the "design of mobility of the future" was exchanged.
According to a press release, the Minister-President of the German state of Baden-Württemberg was "visibly impressed" by the production of the all-electric model and the plans to build a competence center for batteries in Neckarsulm, Germany.
We are massively investing in the electric future of the Neckarsulm location and taking our employees down that road, Audi CEO, Markus Duesmann said in the press release.

For example, Audi decided that Neckarsulm will become a center of competency for a key technology for electric mobility: once high-voltage batteries for plug-in hybrids (PHEV) have been developed in Neckarsulm, development of a complete high-voltage battery portfolio for fully electric vehicles will be located predominantly at that location and gradually expanded. Audi is preparing its staff for this transformation with comprehensive training measures, in which an individually tailored package of theory and practice is created for each employee, Duesmann continued.