Electronics Production | June 12, 2018
Hella expands production with new plant in Mexico
With a new electronics plant and the expansion of existing lighting plants, Hella is strengthening its position in the American market.
Hella has expanded its production capacities in the NAFTA region significantly. The lighting and electronics specialist has officially opened a new electronics plant in Apaseo el Grande in the Mexican state of Guanajuato. In addition, the production capacities in two existing lighting plants in Mexico were expanded at the end of 2017. While not detailing the size of the total investment, the company says that it is in the medium double-digit millions in Euro.
"In North, Central and South America, we are currently growing by more than 15 percent, and therefore much more strongly than the market", says Hella CEO Dr. Rolf Breidenbach, in a press release. "The capital expenditure in our facilities is primarily to serve existing orders placed by regional customers, as well as to further develop our position in the North American market."
The newly built electronics plant in Apaseo el Grande recently began series production. The new location will specialise in manufacturing body control units, control units for electronic power steering and key fobs, among other products. The plant currently has a total area of 11'000 square metres, and will employ up to 250 members of staff in the first development phase.
Hella also significantly expanded the production capacities of two existing lighting plants in Mexico at the end of last year. The location in Irapuato has been extended to include series production of innovative LED headlamp modules, while the El Salto lighting plant based in the state of Jalisco has been extended to further include the production of complex rear combination lamps. The area of the two plants has been increased by 16'000 square metres to a total of 79'000 square metres. As a part of this expansion, the total number of employees is now over 3'000, almost twice as many as before, the press release continues.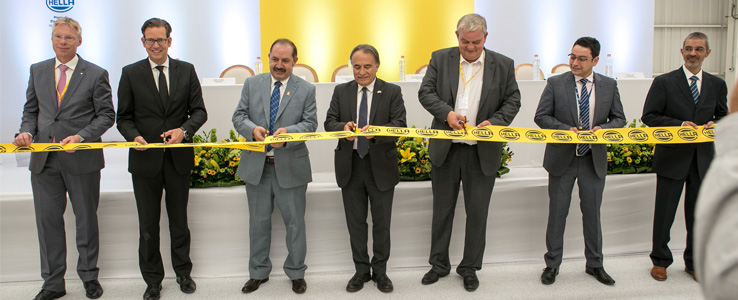 Images:
© Hella
Load more news