Analysis | October 25, 2017
Chinese LED chip suppliers take 54% of production in 2017
The total global LED chip production capacity has entered a new peak expansionary phase in 2017, according to the latest LED market supply and demand analysis by LEDinside, a division of TrendForce.
This recent surge of capacity expansion for LED chips has been a response to the rising demand from Chinese LED package suppliers that had started raising their production capacities earlier in 2016.
With Chinese LED chip suppliers recommencing their capacity building activities, LEDinside estimates that the number of MOCVD chambers (based on the standard K465i design) installed worldwide this year will be 401. This would represent the largest chip capacity increase since 2011.
"At the start of 2017, major Chinese LED chip makers including San'an Optoelectronics, HC SemiTek and Aucksun revealed that during the year they will be carrying out major capacity expansion plans," said Roger Chu, research director of LEDinside. "We estimate that the new processing operations set up by the domestic chip makers will push China's representation in the global MOCVD capacity to 54%."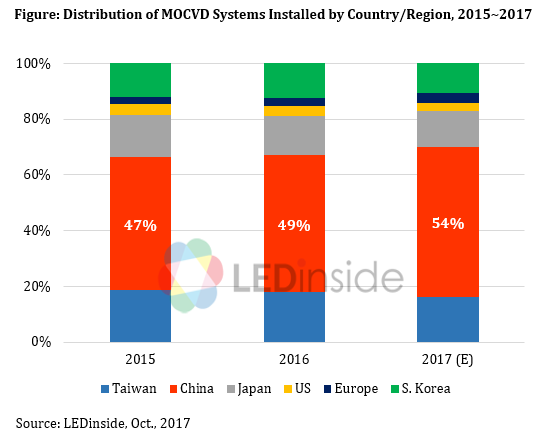 ---
Images and Data:
© Trendforce
.
Load more news