PCB | October 06, 2017
Refurbished PCB manufacturer ready for business
With Thales, a surprising new player, enters the European PCB manufacturing circus. Then again, while 'new' might be correct, it is not entirely true.
The site in Dutch Hengelo has been Thales Nederland since 2000, but the history of the location starts much earlier. In 1922, NV Hazemeyer's Fabriek van Signaalapparaten was founded by Hazemeyer and Siemens & Halske for the development of naval fire-control systems. After the war years, the company was nationalised as N.V. Hollandse Signaalapparaten B.V. (Signaal). In 1956, Dutch electronics giant Philips bought a majority stake in Signaal, but decided in 1990 that the operations did no longer fit into its core business activities. Signaal was sold to France-headquartered electronics and defense contractor Thomson-CSF (becoming Thomson-CSF Signaal). A name change in 2000 from Thomson to Thales brings us to the present day and turned Thomson-CSF Signaal into Thales Nederland B.V. Hollandse Signaalapparaten was primarily involved in naval defence systems (sensors, radars and infrared systems), a — seemingly perfect — fit for defense contractor Thales. The latter already started with in-house PCB and PCBa production in 1969. After several changes in business structure and redefining core activities, the company started outsourcing production to EMS-providers. PCB production — having been recognised as strategically important — remained in-house. Something that has never changed. "The old Thales site in Hengelo has undergone major refurbishment. We reduced the floor space; old buildings were torn down or sold to other companies that wanted to settle in the area. As part of this, a new HQ for Thales Nederland was build, which also included a new PCB production facility — the Group Competence Centre Printed Circuit Boards — responsible for all group needs. That does not mean that the location is responsible for the worldwide PCB production needs of the Thales group. Far from it and impossible to accomplish. All Thales locations have their own suppliers for PCBs; business relationships that have been established over many years. There is no intention within the group to change that set-up. Rather, Hengelo is seen as a good second or third source", says Robin Lemsom, sales manager at Thales Nederland. In that light, it is rather interesting that the centre has now opened its doors to outside customers. "We did, but not for the reason that springs to mind immediately. We do have enough production contracts. Cost-wise we are covered by our internal Thales customers to keep us profitable. However, the new facility and added capabilities places us in a position where we have capacity that extends the needs for our in-house production. Our niche capabilities — 10m flexible PCB for instance — might actually be interesting to external customers and help to support the development of new innovations. If you have it in-house, why not share it and help others." Robin started working with Thales Nederland at the beginning of 2017, working exclusively with exploring avenues outside the group. The aim is to build long- term relationships, rather than the quick turnaround (small project here, small project there). Something that, very likely, resonates with most PCB manufacturers across Europe. Being one of only three PCB manufacturers in the country, makes the facility in Hengelo the only high-end manufacturing facility in The Netherlands. "Production has moved to Eastern Europe or Asia, that is a fact and will not change. But there is always a need for certain capabilities in niche areas", he adds.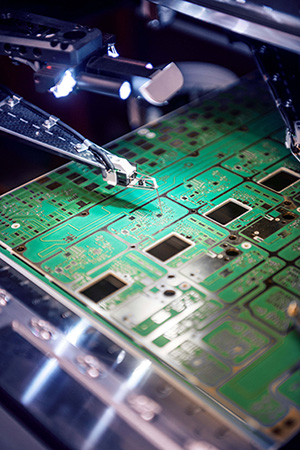 "Low volume/high-mix is what we do best. Niche markets where there is a need for a trusted, long-term supplier relationship is where we see ourselves. The stability afforded by being part of a group such as Thales makes us a good choice as a strategic supplier. There are certain markets where you do not want to change suppliers; were a reliable second or third source is a good thing to have. We basically want to build the stuff that you may not want to source from China." "When it comes to capabilities, we are very much at home in the Thales group. Thales is a high-tech electronics company, operating in a variety of fields that require specialised and certified production. Military certifications MIL- PRF-31032 & MIL-PRF-55110 are covered. Another market that we are looking at is the space industry. Space applications are very interesting, not just for Thales Alenia Space, but also for other companies. Micro-satellites becoming more and more interesting and this could certainly be an opportunity for us as a PCB manufacturer. With our long flex capabilities, we see opportunities in support of innovations within this exciting industry segment." The PCB industry in Europe is declining and has done so for years. Analyst reports continue to point out the obvious. There is no way back; consolidation will continue. What makes a company like Thales decide that entering this highly maturated market — at this time — is a sound business decision.
I ask Robin the most obvious question: "What makes you believe that a move from in-house producer to outside clients will be successful for Thales? The death of one is the life of another?"
"While it is true that many PCB manufacturers — Printca in Denmark to name another military certified manufacturer — had to close down, this was not the reason why we opened ourselves to outside business." "Fact is that a number of Dutch OEM customers were asking in that direction and it made us curious. We started wondering: 'Are there actually more companies out there that are interested in our capabilities?'. For Thales, being a systems supplier, this marks the beginning for an entirely new sales process. We have to learn and adapt", says Robin. For now the facility is busy in a 2-shift-rota, but that can — if necessary — be upgraded to 3 shifts and to 24/5. "As you can see there is a lot of flexibility when it comes to ramping up our production capacity. We currently stand at 50fti, so there is still a lot of room for expansion. Our cost base is fully covered, but more work is always welcome. With more business also comes the opportunity to streamline processes, gain insights and to optimise the use of machines. Something that is beneficial to both Thales and its external customers." The yearly investment budget provides the financial means to keep the machine park 'up-to date', but it also gives the opportunity for more: "We bought a 3D printer and we are experimenting with this new and exciting technology. It will be interesting to see what is actually possible. But we are talking very early stages as 3D printing means overcoming certain disadvantages. Then again, if it works it could elevate embedded systems to new levels. Like i said, we are in the early stages. But, for the time being, 3D printing is something for our own in-house needs, rather than something we will offer to outside customers." The decision to seek outside customers also brings the added bonus of increasing staff numbers. "This will also involve more staff, that is correct. The limit depends on how we organise the shifts. If the shifts are full, then — obviously — that would also mean the end of any recruitment for the facility. We currently employ a number of temporary workers and, should we procure more sustainable business, then we would foremost change their employment to full-time rather than hire new people. However, Thales Nederland as a whole is currently looking for 150 engineers to join our teams."
---
© Thales Nederland