PCB | September 01, 2017
North American PCB orders up – sales down
The IPC reports that July showed a positive year-on-year growth in orders for the North American PCB industry. However, negative growth in sales continued, driving the book-to-bill ratio up to 1.09.
Total North American PCB shipments in July 2017 were down 6.2% compared to the same month last year. This year to date, shipments are 4.4 percent below the same period last year. Compared to the preceding month, July shipments decreased 22.3 percent. PCB bookings in July increased 8.0 percent year-on-year, driving year-to-date order growth up to 2.5 percent above the same period last year. Bookings in July were down 19.8 percent compared to the previous month. "Results for the North American PCB industry in July continued a trend of sales below last year's levels and growth in bookings," said Sharon Starr, IPC's director of market research. "This combination of factors pushed the book-to-bill ratio still higher in July. The ratio has been above parity for six consecutive months, indicating the prospect of a recovery in sales by the end of this year." She added, "The steep declines in month-to-month growth rates should not raise alarms, as these reflect normal seasonal patterns."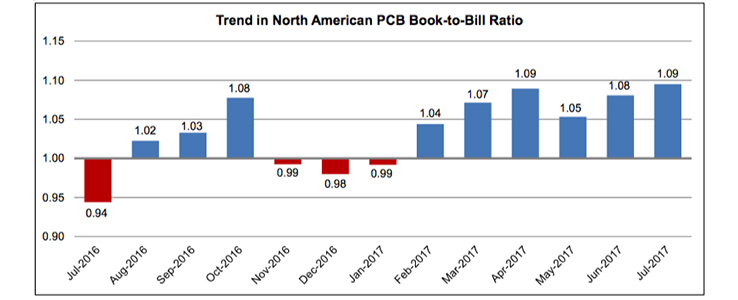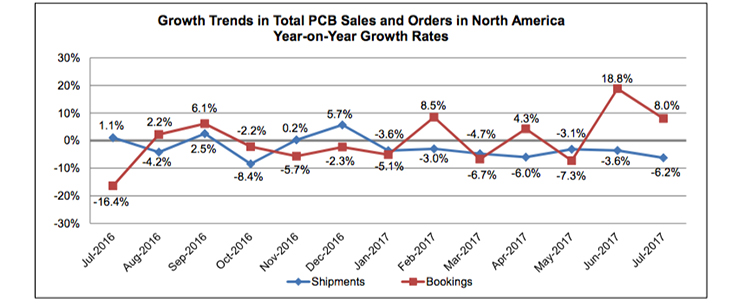 Note: The June 2017 growth rates have been revised since their original publication due to updated data from statistical program participants.
---
Images:
© IPC