Analysis | February 07, 2017
Global semi sales hit record USD 338.9bn in 2016
Global semiconductor sales reached USD 338.931 billion in 2016, the European Semiconductor Industry Association (ESIA) reported, based on the latest WSTS data.
Figures show a 1.1 percent increase worldwide compared to 2015. Region-wise growth was registered in China (up 9.2 percent in 2016) and Japan (up 3.8 percent in 2016). The
American and European and Asia Pacific markets (excluding China) decreased overall in 2016.
Looking at the European semiconductor market, semiconductor sales in Europe reached USD 32.707 billion in 2016. Sales for some of the most important product categories increased significantly in Europe in 2016, namely discretes, sensors and actuators, analog devices as well as logic devices. However, weakening demand for some major drivers of semiconductor sales, mainly microprocessor, microcontroller and memory devices resulted in a sharp drop in the overall 2016 European sales.
December sales in Europe amounted to USD 2.804 billion, up 1.3 percent compared to the same month in 2015. This year-on-year increase was mainly driven by high growth in sales of sensors & actuators, as well as of logic devices, analog devices and memories. Exchange rate effects were significant in December 2016, when comparing market growth in Euros and in Dollars. Measured in Euro, semiconductor sales were EUR 2.599 billion in December 2016, down 0.8 percent versus the previous month and an increase of 2.8 percent versus the same month a year ago.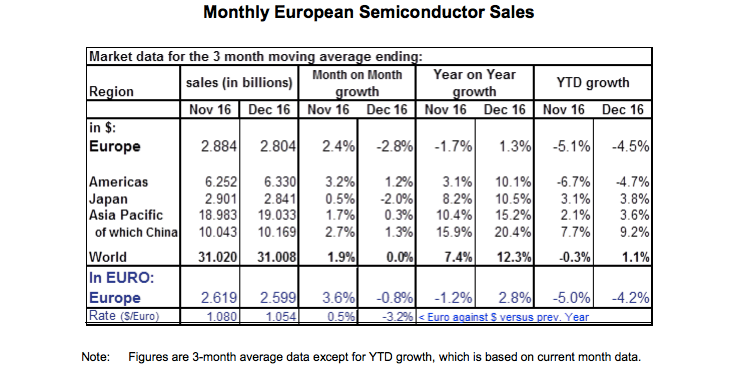 © ESIA
Related news
Load more news