Analysis | December 02, 2016
European EMS industry to reach EUR 30 billion in 2020
Following the decline back in 2014 – the European EMS industry is forecasted to reach EUR 27.4 billion in 2016, which is a second year of consecutive growth, according to Reed Electronics Research.
The European EMS industry is expected to reach EUR 30 billion in 2020 as pointed out by Reed Electronics Research (RER) in its annual survey of the industry. However, Europe is a very large market and as such there are slight differences in focus when dividing it into regions.
In Western Europe EMS revenues are forecast to reach EUR 11.7 billion in 2020
, up from EUR 10.8 billion in 2015, with the market focused on the Aerospace, Defence, Automotive, Medical, Control & Instrumentation, Industrial and Telecom (ADAMCIT) segments of the market. According to RER, pricing pressures – along side the benefits of lower costs through the transfer of production to manufacturing facilities in Central and Eastern Europe and Middle East/North Africa (CEE/MENA) – and the increasing demand by OEMs for EMS to offer local manufacturing in key global markets, will dampen growth in Western Europe during the period to 2020. In the period to 2020, the CEE/MENA region will continue to be focused on higher volume products in the consumer, computing and communications, or 3C, segments of the market with production dominated by the Global Group 1 companies. In 2015, the Top 3 Global players – Foxconn, Flex and Jabil Circuit – accounted for around 70% of the region's EMS revenues. Assuming that the leading global EMS providers remain committed to retaining a major manufacturing presence in the region revenues are forecast to reach
EUR 18.3 billion by 2020
, up from EUR 16.6 billion in 2015, RER reports. Over the period to 2020 the 3C markets will continue to dominate but their overall share will be eroded as the leading Group 2 and 3 European companies, with their focus on the ADAMCIT markets, expand their production capabilities in the region often to meet customer requirements. "Approaching 77% of the total European revenues in 2015 (EUR 21.0 billion) were achieved by the leading 50 companies or 5% of the total number. We are expecting that there will be further consolidation across the industry due to the downward price pressure, slow economic growth and requirement to broaden and deepen the design, development and aftercare services to customers," Reed Electronics Research states in a press release. RER points out that while recent acquisitions has resulted in the emergence of a number of larger European Groups, with low cost operations in CEE/MENA and Asia and increasingly a presence in North America, within Western Europe individual country markets continue to be dominated by domestic players.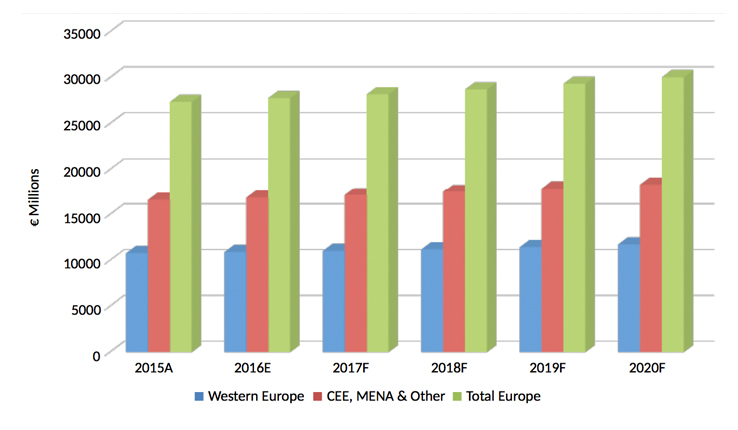 EMS Revenues for Western Europe and CEE/MENA and Other 2015-2020
© Reed Electronics Research