Analysis | September 12, 2016
TowerJazz and SMIC's sales forecast to surge in 2016
Total pure-play foundry market expected to jump 9 percent this year, up from 6 percent growth in 2015, writes market analyst IC Insights.
In 2014, the pure-play IC foundry market registered a strong 17 percent increase, the largest increase since 2010 and eight points greater than the 9 percent increase in the worldwide IC market. In 2015, the pure-play foundry market showed a 6 percent increase, about one-third the rate of growth in the previous year, but seven points higher than the total IC market growth rate of minus 1 percent. For 2016, the pure-play foundry market is expected to increase by 9 percent and greatly outperform the growth rate of total IC market, which is forecast to drop by 2 percent this year. The top 10 pure-play foundries are expected to hold 95 percent of the total pure-play foundry market this year. This year, the "Big 4" pure-play foundries (i.e., TSMC, GlobalFoundries, UMC, and SMIC) are forecast to hold an imposing 84 percent share of the total worldwide pure-play IC foundry market. TSMC is expected to hold a 58 percent marketshare in 2016, down one point from 2015, as its sales are forecast to increase by USD 2.1 billion this year, up from a USD 1.5 billion increase in 2015. GlobalFoundries, UMC, and SMIC's combined share is expected to be 26 percent this year, the same as in 2015. The two top-10 pure-play foundry companies that are forecast to display the highest growth rates this year are Israel-based TowerJazz, which is expected to edge-out Powerchip for the 5th spot in the pure-play foundry ranking in 2016, and China-based SMIC, with 30 percent and 27 percent sales increases, respectively. TowerJazz and SMIC have been on a very strong growth curve over the past few years. TowerJazz is expected to grow from USD 505 million in sales in 2013 to USD 1,245 million in 2016 (a 35 percent CAGR) while SMIC is forecast to more than double its revenue from 2011 (USD 1,220 million) to 2016 (USD 2,850 million) and register a 19 percent CAGR over this five-year timeperiod.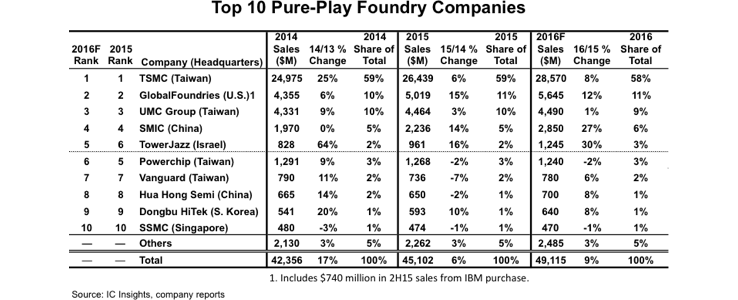 © IC Insights
Eight of the top-10 pure-play foundries are based in the Asia-Pacific region. Israel-based TowerJazz, and U.S.-headquartered GlobalFoundries are the only non-Asia-Pacific companies in the top-10 group. While LFoundry is currently headquartered in Avezzano, Italy, China-based SMIC agreed in 2Q16 to purchase 70 percent of the company for approximately USD 55 million. Since LFoundry has an installed capacity of 40K 200mm wafers/month, the acquisition of a controlling interest in the company essentially serves to immediately expand SMIC's capacity by 13 percent this year. Although SMIC is forecast to register strong sales growth of 27 percent this year, Chinese foundries, in total, are expected to hold only 8.2 percent of the pure-play foundry market in 2016, down 5.1 points from the peak share of 13.3 percent reached in 2006 and 2007. IC Insights believes that the total Chinese company share of the pure-play foundry market will increase through 2020, as the China-based foundries take advantage of the huge amount of government and private investment that will be flowing into the Chinese semiconductor market infrastructure over the next five years.