Analysis | August 09, 2016
Semiconductor sales in Europe up 1.7% in June
Semiconductor sales in Europe returned to growth in June on a month-to-month basis, the European Semiconductor Industry Association reported.
Overall, European semiconductor sales amounted to USD 2.669 billion in June 2016, or a 1.7 percent increase compared to May 2016. Quarterly figures confirm the growth of the European market, with a 0.1 percent sales increase in the second quarter of 2016 compared to the first quarter. (All growth figures represent a three month rolling average.) In Europe, sales for most of the main product categories grew compared to the previous month, with a particular sharp increase for logic chips (up 5.3 percent), MOS microprocessors (up 4.8 percent) and MOS DRAM (up 7.6 percent). Sales of discrete, optoelectronic and analog devices also grew in comparison to May.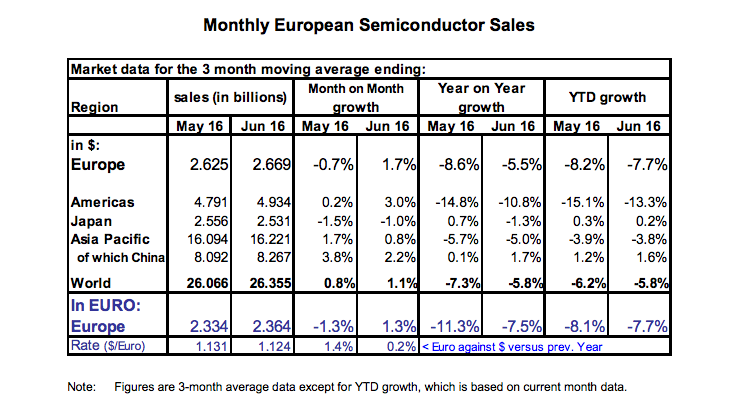 © ESIA
Adding to the positive outlook, sales of application-specific chips worldwide also grew robustly compared to May, especially semiconductors designed for automotive, consumer, wired and wireless communication, and computer applications. On a worldwide basis, semiconductor sales were US$ 26.355 billion in June 2016, up 1.1 percent versus the previous month. Worldwide sales in total second quarter were also up 1.1 percent versus the previous quarter. In June, exchange rate effects were less significant than in previous months, when comparing market growth in Euros and in Dollars. Measured in Euro, semiconductor sales were EUR 2.364 billion in June 2016, up 1.3 percent versus May 2016.