PCB | August 01, 2016
North American PCB Sales Up, Orders Down, in June
Compared to the same month last year, PCB sales growth was strong while orders were down, causing a decline in the book-to-bill ratio to 0.98, writes industry association IPC.
Total North American PCB shipments in June 2016 were 9.7 percent above the same month last year. Year-to-date growth is up 6.1 percent for the first six months of the year. Compared to the preceding month, June shipments were up 18.9 percent.
Conversely, PCB bookings in June decreased 9.7 percent year-on-year, bringing year-to-date bookings growth down to a positive 1.3 percent. Orders in June 2016 were up 18.2 percent from the previous month.
"Sales growth in the North American PCB industry was strong in June, while orders continued to decline," said Sharon Starr, IPC's director of market research. "The book-to-bill ratio has been trending downward since April and the divergence between June's sales and order growth pushed the ratio below parity" she added, "signaling the likelihood of slowing sales growth in the third quarter."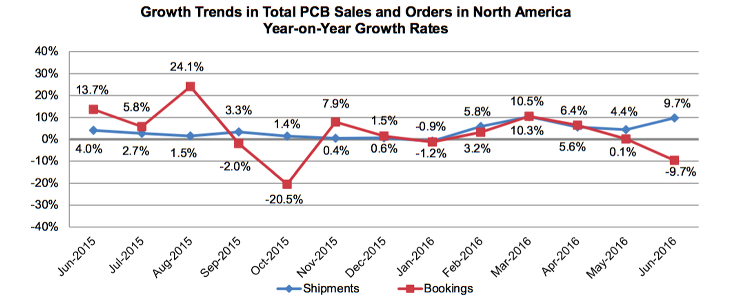 © IPC
Load more news