Electronics Production | May 06, 2016
Daimler looking to become a key player in electric?
The German company is modernising the Mercedes-Benz Hamburg plant as well as expanding its product portfolio to include key components for electric driving.
This modernisation is part of the company's transformation plan – which it has agreed on with the works council. With the agreement in Hamburg, Mercedes-Benz Cars has now set out transformation plans for all plants in Germany. "The completion of the transformation plans is an important milestone in our growth strategy. We put our vehicle and powertrain plants on a future-oriented and sustainable foundation and strengthen their international competitiveness. Thus, we increase the flexibility and efficiency in our global production network. For that purpose we are investing several billion euros", said Markus Schäfer, Member of the Divisional Board Mercedes-Benz Cars, Production and Supply Chain Management. According to the company, the transformation plan ensures the competitiveness of the site and keeps employment stable. In addition, the agreement provides for a highly flexible production through modern shift models. "With the investment of 500 million euros, we will develop the Hamburg plant into a high-tech site producing drive components for electric mobility. This is a proof for the high qualification and outstanding performance of our employees. The transformation plan is a future-oriented achievement for the plant that offers employees new opportunities", says Wolfgang Lenz, Site Manager Mercedes-Benz plant Hamburg. The production of axles and axle components, lightweight structural components and steering columns, along with exhaust technology, will remain an integral part of the plant. The agreement provides the Mercedes-Benz plant Hamburg with extra capacity for axles and axle components. The third generation of steering columns will also be produced in Hamburg. This means that every Mercedes-Benz vehicle will continue to include a part from Hamburg. With the production of the cockpit crossmember for the C- and E-Class, lightweight structural components will continue to be produced here. "With the transformation plan for the Hamburg plant we are continuing the successful strategic realignment of our German powertrain plants. We have defined a sustainable product portfolio and measures to increase efficiency and flexibility for all plants, leaving us extremely well prepared to face the future", says Frank Deiß, Head of Production Powertrain Mercedes-Benz Cars and Site Manager Mercedes-Benz plant Untertürkheim.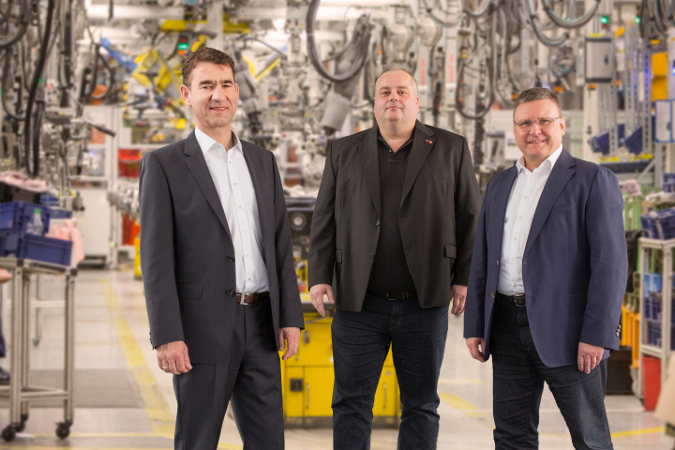 Wolfgang Lenz, Site Manager Mercedes-Benz plant Hamburg, Jörg Thiemer, Chairman of the Works Council Mercedes-Benz plant Hamburg, and Frank Deiß. Photo:
© Daimler