Analysis | April 05, 2016
Top10: NXP's march into 7th
"Weak results last year signal the beginning of what is expected to be a three-year period of declining to stagnant growth for semiconductor revenues", writes Dale Ford, vice president and chief analyst at IHS Technology.
Global semiconductor revenues fell by 2 percent in 2015. Sequential quarterly growth was weak throughout every quarter of 2015, especially in the first quarter when the market declined 8.9 percent over the previous quarter -- the deepest sequential quarterly decline since the semiconductor market collapsed in the fourth quarter of 2008 and first quarter of 2009. Global revenue in 2015 totaled USD 347.3 billion, down from USD 354.3 billion in 2014, according to IHS Inc. The market drop follows solid growth of 8.3 percent in 2014 and 6.4 percent in 2013. Overall semiconductor revenue growth will limp along at roughly 2.1 percent growth compound annual growth rate (CAGR) between 2015 and 2020, according to the latest information from the IHS Semiconductors Service. Current technology, economic, market and product trends suggest that sometime between 2020 and 2022 new products will come to market that will enable a significant level of growth in semiconductor revenues.
Reshaping the leader board
Intel retained its number one ranking in 2015, after completing its acquisition of Altera, which allowed the company to offset declining processor revenues and achieve 2.9 percent overall growth in 2015. The final major deal among the top 10 in 2015 was NXP's acquisition of Freescale, which boosted it from number 15 in the 2014 rankings to number seven in 2015.
Top 10 Semiconductor Companies in 2015
Intel
Samsung
SK Hynix
Qualcomm
Micron Technology
Texas Instuments
NXP
Toshiba
Broadcom
STMicroelectronics
The rest of the gang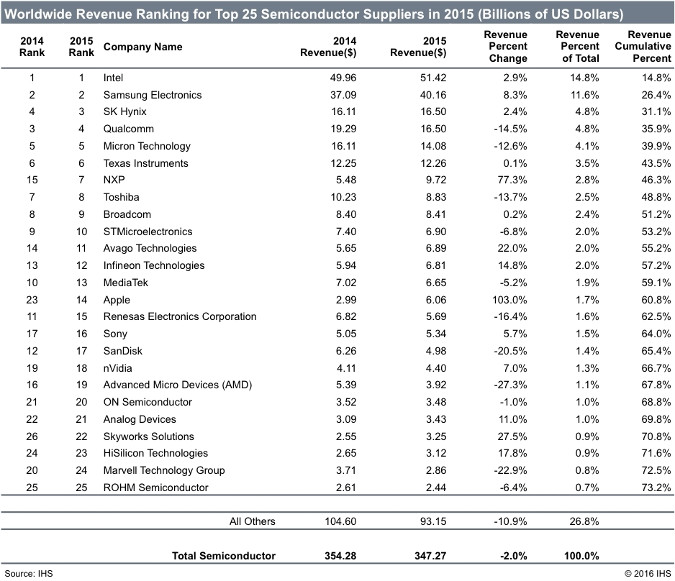 © IHS Technology
A reversal of fortunes
Whereas 2014 was a year of broad-based strength and growth, the market downturn last year left few markets unscathed. Semiconductor revenues for data processing, wired communications and consumer electronics all declined. Automotive electronics and industrial electronics grew less than 1 percent, while wireless communications -- the strongest growth area -- only grew 3 percent. Semiconductor revenues in all regions of the world declined, and all seven of the major semiconductor segments (i.e., memory integrated circuits (ICs), microcomponents, logic ICs, analog ICs, discrete components, optical components and sensors) experienced revenue declines from 2014 to 2015. In fact, out of 128 semiconductor segments and sub-segments tracked by IHS, 89 declined. Combined, these 89 segments accounted for over 77 percent of semiconductor revenues in 2015. In 2014, five of the six semiconductor end-market segments grew; only consumer electronics declined. All regions, except Japan, achieved revenue growth and 88 out of 128 semiconductor segments and sub segments accounted for over 83 percent of semiconductor market revenue growth. In 2014, 195 of 307 companies tracked achieved positive growth. These companies accounted for 83 percent of total semiconductor market revenues. The number of companies achieving growth in 2015 fell to 119 out of 285 companies tracked. These 119 companies only accounted for 64 percent of total semiconductor market revenues.
The few bright glimmers from 2015
Only ten semiconductor market sub-segments worth more than $1 billion in annual revenue grew more than 5 percent year over year in 2015. Wireless communications logic application-specific integrated circuits (ASICs) and analog ASICs both grew 30 percent, while radio-frequency (RF) small signal transistors, wired communications logic ASICs and wireless communications application-specific standard products (ASSPs) grew between 10 percent and 20 percent.