Analysis | February 08, 2016
Chinese AOI market: A review
As electronic products develop towards miniaturization and low-energy consumption, their product components tend to be miniaturized.
Thus, it is increasingly unlikely that the components are inspected through manual review, and instead they have to turn to automatic inspection equipment. On the other hand, with the growing labor cost, electronic manufacturing enterprises due to their demand for the product quality and cost control will accelerate the AOI equipment substitution for human labor. Therefore, global and Chinese automatic optic inspection (AOI) equipment will undergo rapid development in future years. In 2015, China's AOI equipment market size came to RMB7.62 billion, accounting for 20.9% of the global total, registering an estimated CAGR of 16.8 percent during 2014-2018. AOI is primarily applied in PCB, FPD, semiconductor, and other industries. In nowadays China, PCB industry enjoys the widest application. In 2015, the market size of AOI applied in PCB industry reached RMB4.91 billion, accounting for 64.4 percent of the total; that in FPD industry came to RMB1.14 billion, occupying 15.0 percent; that in semiconductor industry attained RMB1.04 billion, making up 13.6 percent of the total AOI market; that in other industries including photovoltaic cells was RMB530 million, representing 7.0 percent. Concerning the competitive landscape, prior to 2005, China's AOI equipment market was virtually monopolized by foreign branded equipment. Subsequently, some domestic manufacturers with certain R&D strength, such as ALeader, Jutze Intelligence, ekt-Tech, ZhenHuaXing Technology, Ovi Technology, and JT Automation Equipment, seized market opportunities and successfully developed China-made AOI equipment. Compared with foreign counterparts, however, these companies have less capital and weak R&D strength, hence poor technical innovation. They mainly focus on the downstream process (say, PCB), and therefore have weak capacity to respond to the market, a situation that led to a fierce competition.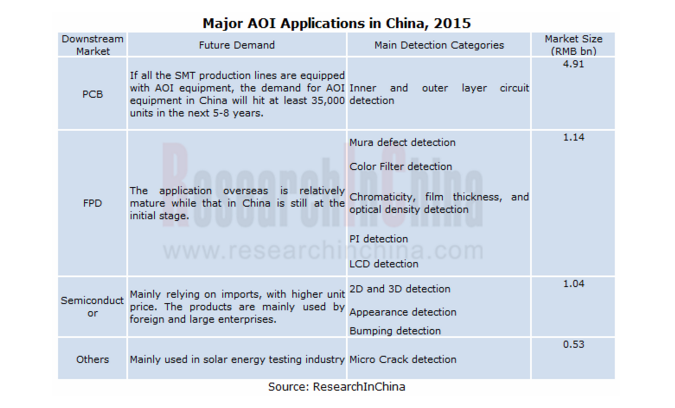 © Research in China
At present, some international AOI equipment manufacturers like Israeli-based Orbotech, Japan-based Screen and South Korea-based KohYoung Technology occupy major market segments with a full range of product lines. Other enterprises, such as Omron, KLA-Tencor, and HB, specialize in front-end industries like semiconductor and FPD, taking up the high-end market. Meanwhile, some Taiwanese companies e.g. TRI, Utechzone, and MACHVISION by virtue of their original electronics industry supply relationship have extended their presence to mainland Chinese market and have formed another new competition force.