Electronics Production | December 11, 2015
Zollner with Rehm equipment in Costa Rica
Family-managed global player Zollner AG relies on manufacturing equipment from Rehm Thermal Systems for its new plant in Costa Rica.
Competing globally on the EMS market requires a continuous supply of initiatives, ideas and concepts. And EMS-provider Zollner AG from Zandt seems to have plenty of those. This year company founder Manfred Zollner can look back on 50 years of corporate history.
Having started back in 1965 as a one-man company with a small electrical shop in Zandt, he is now at the helm of a company with over 9'000 employees. Of its 18 locations worldwide, eight (8) are situated in the local area around Zandt, making Zollner AG the largest employer in the region.
After establishing several locations in the Bavarian Forest (Germany), the first foreign location in the Hungarian town of Vác was founded in 1988. Since then, locations in Romania, Switzerland, China, Tunisia, the United States and most recently in Hong Kong and Costa Rica have been added.
Since November 2014, production has also been up and running in the Costa Rican town of Cartago, equipped with reflow soldering systems and drying systems from Rehm Thermal Systems. Zollner Electronics Costa Rica Ltda. mainly manufactures products for the industrial sector at this new location, but also for the automotive industry. Although electronic assemblies are being manufactured here at the moment, the portfolio will later be expanded to include the production of complex mechatronic systems.
"We do not need to predict the future, but we must be well prepared for it." Johann Weber, chairman of Zollner AG, shares this approach with his fellow board members. To ensure this planning security, those in charge at Zandt have built up a circle of reliable partners. And Rehm Therman Systems has been one of them and all Zollner AG locations are equipped with soldering systems from Blaubeuren. Johannes Rehm, CEO of Rehm Thermal Systems, always emphasised the necessity of integrating the systems with internal company data networks. Zollner makes good use of this today and close cooperation - between Milpitas and Cartago for instance - is relatively easy.
The new Zollner AG plant in Cartago, Costa Rica has already seen the installation of a VsionXP+ reflow convection soldering system and an RDS 6000 paint dryer, the largest from the Rehm Thermal Systems porfolio. A second production line is already being planned and is scheduled to begin production in the fourth quarter.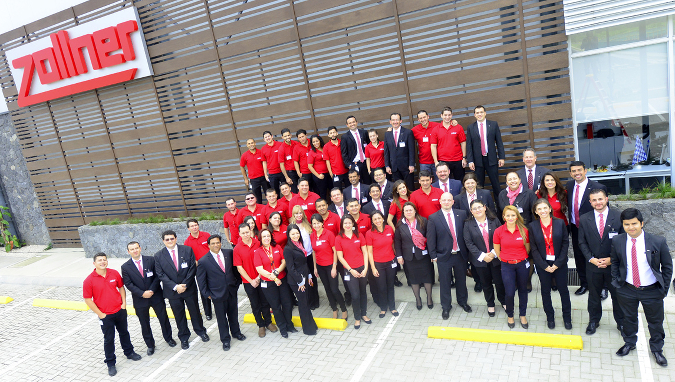 © Zollner AG
(Zoom)
Related news
Load more news