Electronics Production | December 02, 2015
Electric vehicles - more than a trend
They might not have become the norm, but they are growing more and more common. Certain geographical markets have shown greater interest, whiles others – for natural reasons – are still somewhat behind. I am of course talking about electrical vehicles.
The top selling plug-in electric car at the moment is the Nissan Leaf, with global sales of about 195'000 units by October 2015*. The Leaf is followed by the Chevrolet Volt plug-in hybrid, which – together with its sibling the Opel/Vauxhall Ampera – has combined global sales of over 100'000 units at the end of October. Tesla's all-electric Model S comes in at third place with over 90'000 units sold worldwide by October 2015, according to reports in HybridCars. (*all figures since market launch)
While these numbers might not be all that impressive for an ordinary car, when it comes to electric vehicles, they actually are. Back in September, the industry for electrical vehicles hit its biggest milestone to date. Why? – because in September 2015, somewhere in the world, the millionth modern plug-in electric vehicle took to the road, according to the International Council on Clean Transportation.
To bring one million electric cars onto the street in under 6 years. Do you see why I believe those (small) number are in fact huge?
Look at this chart from the ICCT (based primarily on data from ev-sales.blogspot.com). It covers the global sales progression from 2009 through September of 2015.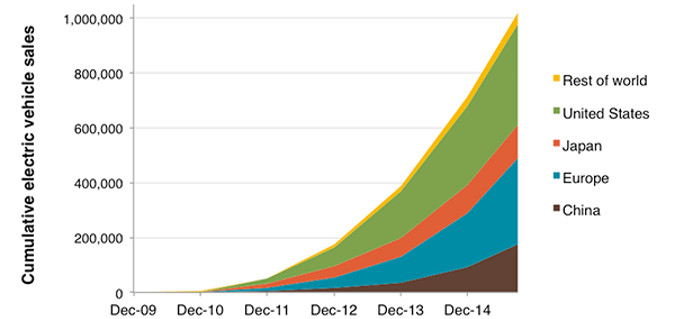 Increased sales figures for electric vehicles have primarily been recorded in North America, Europe and Asia. Remember those one million electric vehicles? 36 percent can be found in the US, Europe 31 percent in Europe, China has 17 percent, Japan covers 11 percent, while the remainder of five percent is distributed elsewhere. To get a better grip on the industry, let's look at the leading companies in this field: Renault-Nissan, Mitsubishi, Chevrolet, Tesla, Toyota, Ford, BMW, and Volkswagen. Together they manufactured over 80 percent of these vehicles, according to the ICCT.
More and more companies are now looking to get involved in the electric vehicle market, and several other established car manufacturers are working on their EV models.
During
TEC Gothenburg
on January 28, 2016, Tesla will talk a little bit about the market for electric vehicles and the success they enjoyed in it. Want to talk to Christopher Björk, Tesla's store manager in Gothenburg, and see how and why the company's Model S made it to third place? After all, a number of questions remain unanswered and Tesla is all about major investments in Sweden to accelerate the transition to sustainable transportation.
-----
Images:
© ICCT
Load more news